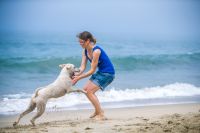 Chrissi Schranz (they/them) is a dog trainer, translator and traveler based in Antigua, Guatemala. Chrissi has been fond of dogs of all sizes, shapes and personalities for as long as they can think - especially the so-called difficult ones. After training the dachshund of their early teenage years in traditional ways at their local obedience club, they learned about clicker training and got hooked on force-free, motivational methods. Their work days are spent doing the things they love most: thinking about languages, writing, and teaching pet dog manners and life skills to human and canine clients. Chrissi's (German-language) puppy book "Nur Mut!" was released in 2017, followed by their recall book "Komm zu mir!" in 2018. Chrissi loves working with people and dogs, and training, playing and hiking with their Malinois Game and Border Collie Mick.
Chrissi's pet dog school website is https://chrissisdogtraining.com, and their dog training blog can be found on https://chrissisdogtraining.com/blog/.


Pronouns: Chrissi goes by they/them, but feels the need to add that they have never met a pronoun they truly liked. In their ideal world, they'd have the option to opt out of the concept of gender altogether: N/A.
This class is all about enjoying the time you spend out and about with your dog: urban walks, nature hikes, and going places. Whether you and your dog walk on leash, off leash...
December 1, 2020
Too much work, and too little time? Too exhausted to train your dog at the end of a busy day? Feeling guilty for not having exercised her enough? Come join us in Findi...
February 1, 2021
Pet Professional Workshops on Demand
This workshop will provide you with a step-by-step training protocol for the kind of recall your clients are looking for – one that is effective at home, at the dog park, and ...
Chrissi Schranz
(Faculty)
This workshop introduces training-based, equipment-based, and movement-based approaches to leash walking. You will learn how to decide together with your client which method (...
Chrissi Schranz
(Faculty)
This workshop will lay a roadmap for trainers to safely handle aggression cases, from how to identify whether the case is right for you to keeping records of the training sess...
Jamie & Michael Badial
(PPP Instructors)
You've got the knowledge, you've got the experience, and you've got your ethics all figured out. You quote Pavlov in casual conversations, you've got a library full of FDSA cl...
Chrissi Schranz
(Faculty)
Few things come close to the behavioral impact of well-taught private sessions. Done right, they are incredibly rewarding for the clients and their dogs as well as for the tra...
Chrissi Schranz
(Faculty)
Have a question about an upcoming course taught by Chrissi? Not sure if your dog is suitable for a specific class? We welcome you to contact instructors by email to make sure the course is suitable for you and your dog.
FDSA is excited to welcome Chrissi for the August 2017 session.