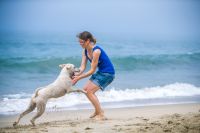 Chrissi Schranz (they/them), CCUI, is a dog trainer, writer and traveler currently based in Mexico. Chrissi has been fond of dogs of all sizes, shapes and personalities for as long as they can think - especially the so-called difficult ones. After training the dachshund of their early teenage years in traditional ways at their local obedience club, they learned about clicker training and got hooked on motivational methods. Their work days are spent doing the things they love most: thinking about languages, writing, and teaching pet dog manners and life skills to human and canine clients. Chrissi's (German-language) puppy book "Nur Mut!" was released in 2017, followed by their recall book "Komm zu mir!" in 2018. Chrissi loves working with people and dogs, and training, playing and hiking with their Malinois Game and as of late, podcasting on "Our One Wild and Precious Lives (and Our Dogs)".
Chrissi's blog can be found on https://chrissisdogtraining.com/blog/ .


Pronouns: Chrissi goes by they/them, but feels the need to add that they have never met a pronoun they truly liked. In their ideal world, they'd have the option to opt out of the concept of gender altogether: N/A.
Too much work, and too little time? Too exhausted to train your dog at the end of a busy day? Feeling guilty for not having exercised them enough? Come join us in Find...
December 1, 2023
Training Videos on Demand
How to Train Your Dog to Come Coming when called may well be the most important behavior your dog will ever learn: it'll keep your dog safe when she gets...
Chrissi Schranz
(Faculty)
Don't Chase That! Does your dog have a tendency to chase cars, cats, toddlers, or wildlife? Unwanted chasing behavior in pet dogs has the potential to ru...
Chrissi Schranz
(Faculty)
You've got the knowledge, you've got the experience, and you've got your ethics all figured out. You quote Pavlov in casual conversations, you've got a library full of FDSA cl...
Chrissi Schranz
(Faculty)
Few things come close to the behavioral impact of well-taught private sessions. Done right, they are incredibly rewarding for the clients and their dogs as well as for the tra...
Chrissi Schranz
(Faculty)
Have a question about an upcoming course taught by Chrissi? Not sure if your dog is suitable for a specific class? We welcome you to contact instructors by email to make sure the course is suitable for you and your dog.
This class was excellent for us. Chrissi is an excellent problem solver and a very patient, kind instructor. I liked the methodical progression of this class as well as the experiments we did to really asses how well we knew our dog's preferences. I am still working on the material, but I think we have a good foundation and will keep working.
---
Chrissi, this was my first class with you and I loved your teaching style and interactions with the gold students and your participation in the discussions. You shared a wealth of information in your lectures and made the training fun and manageable. I adapted your ideas to other parts of my day so not only did my dog benefit from the more consistent training but I benefited from finding ways to be more organized and productive. I look forward to taking more of the classes you teach. Thanks so much for a fun class!
---
We absolutely loved this class. Chrissi's feedback is very detailed and super helpful. Not only did the recall improve over the course of 6 weeks but also our overall relationship changed. Our walks turned into a very enjoyable time for all involved and I love to see the the sparkle in my dogs eyes when we are about to play a game :-)
---
This class was fantastic! Chrissi's responses were so thorough, helpful, and kind. Shout and I were able to make so much progress and do some amazing relationship building!
---
Chrissi gave me back walks with my dog. I feel safe with my dog after a couple of scary incidents. She listened to my concerns and made me feel at ease for the decision. I'm grateful for the work she helped us with and would encourage anyone struggling with basic or advanced recall to take her classes. It's amazing how much I learned from her. I can't say thanks enough.
---
Finding Five came at just the right time for me. It helped me not only with my goal setting for both myself and my dog training, but with the implementation of the goals. This class has motivated me to get off the couch, pre-prep some dog treats and have a selection of quick games I can play in just five minutes when the rest of my life gets busy. I also loved how our instructor shared what she was working on with her own dogs in the discussion thread on TEAM. I highly recommend this class to anyone who is struggling to find time to train their dog or who just wants some awesome games to play with their dogs.
---
Chrissi is a fantastic instructor. This is my second course with her and will take courses from her in the future. She is thoughtful and patient. She has excellent feedback and pinpoints the places that need attention. She does this with kindness and compassion. She has good human and dog insight.
---
This was a neat and fun class. I really like the way Chrissi showed us to think about reinforcement as a behavior. I found that it changed the way that I approached it and it also showed me that I was treating behaviors and reinforcement differently during the class (inadvertently). Chrissi was excellent about tailoring a plan for us (at gold) that worked well for us. She had excellent observation skills and was very patient. I will definitely take another course with her!
---
This was my first class with Chrissi - she is a great instructor. Her feedback is precise and helpful. I really appreciated her step-by-step instructions and feedback. This class did exactly what I had hoped it would - get us on the path to a consistent, strong recall.