Course Details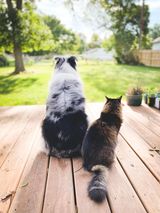 Don't Chase That!
Does your dog have a tendency to chase cars, cats, toddlers, or wildlife? Unwanted chasing behavior in pet dogs has the potential to ruin even the best of days: if only your dog didn't chase after cars, you'd be able to have her off leash at the park. If only she didn't lunge at your three-year-old, life at home would be much more relaxing.
Can your dog learn to respond to passing cars or motorcycles by slowing down, and sniffing the ground? Will Fido ever be able to relax on a mat rather than pester your toddler? Is it possible to call off-leash dogs away from wildlife?
Let's find out! Chrissi's webinar explores triggers as well as solutions to common chasing challenges, and introduces a variety of training and management plans that will ease your worries and increase your dog's safety and freedom.
You'll learn about three different goal behaviors, and choose the one that works best for your situation:
1. Recalling your off-leash dog away from joggers, playmates, or wildlife

2. Calmly passing cars, motorcycles, or bikes in an urban environment

3. Relaxing in the vicinity of children, cats, and other small pets at home
After taking this webinar, you will know how to distinguish between training and management, and be able to pick the training plan, management strategy, or combination that makes sense for your dog's unique challenges: maybe it is time for your dog to learn a new behavior that is incompatible with chasing rapidly retreating people, objects, or animals - or maybe you will skillfully apply management solutions such as long lines, and baby gates to make it impossible for your dog to engage in unwanted chasing.
Whichever solution you pick, the webinar will guide you through a step-by-step training process. Example illustrate how to teach a strong recall, train your dog to lie down and stay on a mat, and change her emotional response to the sight of cars, bikes, or motorcycles.
Watch the Video Trailer with Sample Clips: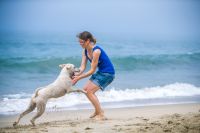 Instructor:
Chrissi Schranz
Chrissi Schranz (they, them), CCUI, is a dog trainer, writer and traveler currently based in Mexico. Chrissi has been fond of dogs of all sizes, shapes and personalities for as long as they can think - especially the so called difficult ones. After training the dachshund of their early teenage years in traditional ways at their local obedience club, they learned about clicker training and got hooked on motivational methods ... (click here for full bio and to view Chrissi's upcoming courses)