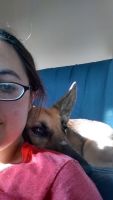 Melissa (she/her) is FDSA's resident marketing geek. She teaches several marketing classes here at FDSA, including: Marketing for Pet Professionals and Building a Wordpress Website. In addition to her marketing classes, Melissa teaches FDSA's Treibball Classes and workshops.
In addition to teaching, she hosts the Fenzi Dog Sports Podcast, coordinates webinars and workshops, handles much of FDSA's email marketing, runs the Ripple Effect group for dog trainers using Fenzi principles, and completes other random odds and ends as needed. She is currently owned by an English cocker spaniel and a small tuxedo kitty.
Melissa's GSD, Riley, who had a championship in treibball, passed away in March of 2020.
You can learn more about Melissa on her website: www.clickandrepeat.com.
Pronouns: Melissa goes by she/her.
Melissa's Current and Upcoming Courses
Training Videos on Demand
Premack, shaping, quadrants, reinforcement strategies, marker words … for most pet owners, all these words sound a bit like gobbledygook. But the strategies behind them are po...
Have a question about an upcoming course taught by Melissa? Not sure if your dog is suitable for a specific class? We welcome you to contact instructors by email to make sure the course is suitable for you and your dog.
Taking this class was not only a learning experience, but also an empowering experience for me. Melissa's clear instruction, her engaging style, and her attention to detail in her responses gave me the tools I needed to approach the creation of my first website with confidence! I simply cannot than her enough for this fabulous class. Highly recommend this to anyone interested in website design.
---
Instructor went above and beyond to provide clear directions. Students should expect to dedicate a lot of time to reading lectures and working on their new web sites. The course is very fast-paced, but at the end of it students are rewarded with a functional site. Worth every effort. I highly recommend taking this class at Gold, because you WILL have questions and you WILL need support. Melissa will guide you out of whatever trouble you run into!
---
I've loved all Melissa's classes (and the webinar) so far. She not only knows her stuff, but knows how to convey it as well, and that makes for a great class. I'll probably wind up signing up for anything she offers! Thank you!
---
This class by far has been the most value for my money. It has exceeded my every expectation. Melissa truly did an amazing in designing this course and the direcetions were fantastic. She provided not only video directions, but also written out directions with screen shots. It was so comprehensive. She answered everyone's questions promptly. I was only a silver student, but was able to build an entire website from scratch that I think looks great! If you need a new website or a website overhaul you would be crazy to not take this course!
---
Marketing has always been a thorn in my side when it came to my business. Melissa broke things down into manageable pieces that i could wrap my head around. I don't feel like SEO and all the marketing lingo is a foreign language anymore, and I am confident that i can successfully move my business into the place I want it to be! Thanks Melissa!
---
This was a fantastic course with so many benefits to both trainers and dogs alike. It really helped me focus in on and refine my technical skills while having a lot of fun doing it. Treibball training also requires a lot of problem solving and creativity which I really appreciated. It definitely made me think more about the needs of my dog, the environment and setting achievable criteria. It was much more complex than I anticipated but I had so much fun seeing the progress we made each session, the reward was a huge payoff for the work! Melissa made this a fun, highly-motivating training course that brings out the best in every handler and dog. She was so positive and her feedback was absolute gold. I am really glad I did this course and can't wait to keep progressing in this sport!
---
Melissa is very encouraging and is great about encouraging us to adapt training styles to the individual dog and owner team. She gives great feedback and will do her best to ensure the team succeeds.
---
There was a huge amount of content in this class that went above and beyond the syllabus and my expectations. Melissa gave lots of specific advice to each gold student, since each business was different in where it was in the marketing process. I highly recommend this class to anyone who runs their own dog business!
---
Melissa holds a voluminous amount of information about marketing and web design! Having class lectures in written and video format was super helpful! This is going to be so helpful as I transition to full time professional dog trainer. I am so thankful FDSA offered this course. I don't know where I could have gotten this quality of instruction either in person or online.
---
This class was so helpful! Thank you Melissa! I know I will continue to work my way through the materials--and am looking forward to you offering this class again. I have a second organization that needs a website--and I loved the structure that being in class provided to keep me honestly working on my website. I am looking forward to your marketing class, as well. It is so helpful to have information that is focused on the type of work I do (dog stuff) and to be in a community of learners who are also in the dog world. Thanks so much for offering this class!