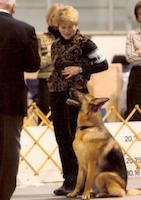 Heather Lawson (she/her) is a Certified Professional Dog Trainer - Knowledge Skills Assessed (CPDT-KSA) and also a Karen Pryor Academy Certified Training Partner (KPA-CTP), a CGN evaluator and a free-style judge. She has been training dogs and their humans for more that 20 years after deciding that the corporate world just wasn't cutting it anymore. Having had German shepherds for most of her life, she decided it was time to bring one into her family again. Mica was the one and took her on a journey never expected. With a dog people said would never get in the ring, Heather and Mica were able to achieve national standings of Top 10 Obedience Dog two years running and Top Obedience German Shepherd for 5 straight years. Mica was also one of the first GSDs to achieve the CKC Masters Obedience Trial Champion title.
You see, when you say "can't" to Heather, it just means "find another way that works for the dog and human." Provide patience, good communication along with positive reinforcement while you listen to the dog and you'll have a way that can work for everyone. This is the focus that Heather used again with Luka, who achieved national standings, until her retirement. Heather continues to compete in obedience and rally with Tag (Luka's son) and is currently prepping the newbie in the house, Piper, for her competition journey.
Heather is also the owner of dogWISE Training & Behaviour Center Inc. where she teaches group classes for companion pets, competitive obedience and rally, in addition to providing behaviour consults and private lessons.
Heather's website is www.dogwise.ca
Pronouns: Heather goes by she/her.
If Level 1 was kindergarten, Level 2 is all of elementary school. Everything you and the dog learned in Level 1 now becomes more solid and more useful. You'll both be...
December 1, 2023
WHAT IS A MODIFIER CUE?It's a cue that gives additional information to your dog to further differentiate the exact behaviour that will earn them a reward. Some e...
December 1, 2023
Training Videos On Demand
Stop Leash Pulling Multiple Methods For Loose Leash Walking! Just as there are a multitude of great cookies recipes so are there many ways to teach and o...
Have a question about an upcoming course taught by Heather? Not sure if your dog is suitable for a specific class? We welcome you to contact instructors by email to make sure the course is suitable for you and your dog.
Heather's feedback was prompt, thoughtful, and kind. She presented valuable feedback that was detailed and constructive and provided clear next steps so I was never left wondering how to proceed. As a newbie to concept training, this course was very different from others I had done. It was amazing to see my dog engaging his brain in a different way. As someone who enjoys seeing those "a-ha" moments in dogs, this course provided me with plenty of reinforcement. Most importantly, my dog loved this work too!
---
Heather provided very detailed, custom feedback to all of her students in this class. She really went above and beyond to review and analyze my videos. I really appreciate that!
---
The instructor provided great feedback on the gold threads so that even at bronze I had no problems improving my training. This will be a course that I reference in my library for a long time to come. Shawna T.
---
What a great way to learn loose leash walking without feeling overwhelmed. Heather's class was well designed and delivered. I truly love that I can go back and watch parts that I need more practice on. Well done!
---
Heather takes each goal and breaks it down into manageable steps. The dogs are set up to succeed. As well the instructor can offer alternate suggestions when needed.
---
Match to Sample class surprised me. I took it because I liked the concept, but I was braced for it not being a good fit for my guy: he's not a fan of work that might seem repetitive to him, and I thought the return to station between sets would probably dampen his enthusiasm. But he had a ball! As did I: Heather is a joy to learn from. She is always so clear and focused with her lectures — thanks to her step-by-step homework plans, I always had a ready-made training plan to run with, which was a great help. I also loved how skilled she was at identifying where a Gold had gone wrong and exactly what steps they needed to take to rectify: it made it very easy for we Bronzes to spot our own mistakes and how to correct them. I'd like to thank Heather for yet another excellent class, and for being so kind to offer some feedback and advice in the Facebook lurker group — that was totally unexpected, but very kind of you to do, and much appreciated.
---
Taking the TEAM 2 class at gold was a really good decision. Heather's observations and comment are huge helpful and she can respond very well to every single human-dog team.. We have nice improvement with the skills we worked on!
---
Heather is a terrific instructor. She is always available (Usually two times a day!). She is very supportive EVEN when the failure is my inability to follow the instructions as carefully as necessary for success. I have learned an enormous amount and my dog, although unable to always Match to Sample, is more attentive, eager to work and in synch with me!
---
Yay Heather! Thank you again for a wonderful class. I took your 3 concept training classes, Match to Sample (twice) & Modifier Cues. Having taken classes with you as instructor encouraged me to want to take this Level 1 class to build my own teaching skills for my learner Knowing what a kind, encouraging and detailed trainer you are in offering feedback, I was confident that this class would be amazing and it was! My animal wanted to learn more shaping 'especially,' and from the first module of Lesson 1, his tail was going. Due to my day job schedule, I was unable to be as active as I would have liked, but know that I have a few weeks to delve back in. And, of course my Library Pass is and will be invaluable. Cannot wait for your MTS class again!!! (Warmly and all best! Benita)