Course Details
Premack, shaping, quadrants, reinforcement strategies, marker words … for most pet owners, all these words sound a bit like gobbledygook. But the strategies behind them are powerful – so how do you help them benefit from the methods without understanding the science?

We'll cover 11 ideas – a mix of games and concepts – that can help pet owners understand the "important pieces" of training, without long "boring" explanations. Drop the fancy titles and help them get to training! Games include ideas for helping increase reinforcement, helping them practice in class without the repetition becoming boring, and teaching them to break things down while building up important behaviors … no glazed-over student eyes involved!
Check out this short trailer: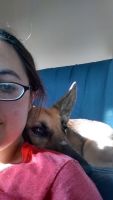 Instructor:
Melissa Breau
Melissa (she/her) is FDSA's resident marketing geek. She teaches two classes here at FDSA: Marketing for Pet Professionals and Building a Wordpress Website.