Course Details
Do you dream of a reliable real-life recall? Do you dream of a dog who pays attention to you, making sure not to lose you when you're out on an off-leash hike? Do you want to learn how to effectively reward your dog even when you forget the cookies at home? Are you up for some interactive fun - no matter whether you are in your own yard, strolling through an urban area, or out on a nature hike? Come join us in Calling All Dogs! Starting from the very beginning (no prerequisite knowledge required), we will build recall foundations to last a lifetime.
The foundations for a strong recall are a great relationship, the force of habit, and a human who knows how to effectively and creatively reward their dog. We will work on each of these elements separately before combining them into a recall in increasingly difficult environments.
** Depending on students' and dogs' previous knowledge and skill level, and the degree of independence and environmental focus of a particular dog, what can be achieved in this class will vary. However, if you work through the exercises and observe your dog closely, you will get to know them better, learn how to make your walks more interactive and fun for them, and improve your recall significantly.
Listen to the Fenzi dog sports podcast with Chrissi Schranz on building reinforcers & recall training and on free-roaming dogs as well as who this class is a good fit for.
Teaching Approach
Lectures will be released 2-3 times a week. Instructions are provided in both written form (bullet points/steps), and through video examples.
Access to outdoors spaces is recommended, since a lot of the exercises happen in real-life environments. If you don't have access to fenced in spaces, you will be able to do almost everything on a long line instead.
Many games require the handler to be able to run away from the dog, or move and throw toys. While the lectures assume an able-bodied handler and a dog who is interested in food or toys, I am highly flexible for students at the Gold level. I will happily work with you to adjust the materials for your Gold team's needs.
My classroom is a safe space for whoever you and your dog happen to be. For Gold studets, my feedback is highly tailered to the team in front of me and their needs and goals, including time stamps on your videos (anytime time-stamping makes sense) and pointing you to resources and outside-the-box approaches.
There will be a Facebook group, but NO Teaching Assistant this term! Make sure to only register at Bronze if you do well working independently!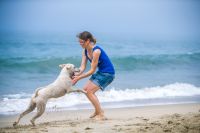 Instructor:
Chrissi Schranz
Chrissi Schranz (they, them), CCUI, is a dog trainer, writer and traveler currently based in Mexico. Chrissi has been fond of dogs of all sizes, shapes and personalities for as long as they can think - especially the so called difficult ones. After training the dachshund of their early teenage years in traditional ways at their local obedience club, they learned about clicker training and got hooked on motivational methods ... (click here for full bio and to view Chrissi's upcoming courses)