Course Details
Too much work, and too little time? Too exhausted to train your dog at the end of a busy day? Feeling guilty for not having exercised her enough? Come join us in Finding Five!
We'll be looking at 5 common training obstacles and find creative and practical solutions for each of them, and you'll learn to ...
find untapped pockets of training time in your busy life
write training plans
break down larger goals into 5-minute sessions or less
tackle the hardships of deciding what to work on (and which dog to work)
strengthen known behaviors with proofing and generalization games
explore your relationship with your dog in written assignments that will help you increase your motivation to train, play, or simply spend time with her.
Most of this class can be done indoors and in small spaces.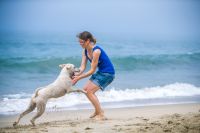 Instructor:
Chrissi Schranz
Chrissi Schranz (they, them) is a dog trainer, translator and traveler based in Antigua, Guatemala. Chrissi has been fond of dogs of all sizes, shapes and personalities for as long as they can think - especially the so called difficult ones. After training the dachshund of their early teenage years in traditional ways at their local obedience club, they learned about clicker training and got hooked on force-free, motivational methods ... (click here for full bio and to view Chrissi's upcoming courses)