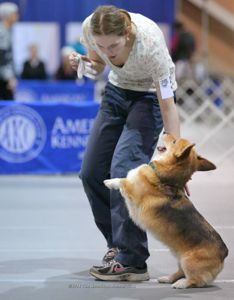 Laura Waudby (she/her) trains and competes in obedience, rally, and agility. She was halfway to her OTCH with her UDX corgi, Lance, before his unexpected early retirement. She also has championship titles in USDAA and UKI agility. Laura was previously a service dog trainer for 10 years in a variety of roles from directly training the dogs for their specific jobs, to helping the puppy raisers and clients with how to train their dogs.
Due to the special behavior needs of her duck tolling retriever, Vito, Laura developed a strong interest in learning how to create motivation and confidence in dogs that struggle, either through genetics or through less than ideal training, to make it into the competition ring. Laura is excited to bring her insight and talents to the Fenzi Academy team!
Laura's personal website is Tandem Dog Sports
and Laura shares training content regularly on facebook (Laura Waudby), Instagram (@laura.waudby), and TikTok (@Laura.Waudby)
Pronouns: Laura goes by she/her.
Self Study Classes - lectures available for purchase
Training Videos on Demand
Have a question about an upcoming course taught by Laura? Not sure if your dog is suitable for a specific class? We welcome you to contact instructors by email to make sure the course is suitable for you and your dog.
I absolutely cannot say enough good things about Laura! She has the most positive and creative ways to deal with the issues that each individual team presents-- I wish this class had been available before I went into the ring with my dog! We could have been way more prepared and made far fewer mistakes!
---
Laura is awesome! Which is why I have taken multiple courses with her. She is so perceptive, and generous in her feedback. I also like that she is so unpretentious, and she is also active in competition; someone who doesn't talk the talk but really walks the walk
---
Laura was great! She was always encouraging and supportive but at the same time able to provide constructive critiism. Loved her calm, practical attitude and her willingness to talk about some of the struggles she has with her own dogs.
---
Laura was absolutely wonderful! Her lectures were clear and well laid out. I love the way each one started by explaining the goal, followed by how to get there and lots of videos to illustrate. And the videos weren't of just perfect training sessions - we got to see when things weren't perfect too, and how she handled them. Laura was so, so patient with all of my questions. She provided clear, easy to understand answers and she was always encouraging and had a positive way of offering feedback. I kept up with all the other Gold threads too, and noticed how she consistently stayed positive and patient, but adjusted her feedback to each student's goals. Awesome instructor!
---
Laura provides a step-by-step method for scent discrimination that is guaranteed to be successful, even for the most sensitive dog. She is quick to understand the nuances of each team and provide individualized instruction. It's all about keeping it fun and improving the dog's confidence. Wonderful course - I was thrilled with the progress we made in six weeks. ~ Jill Stoller
---
This was an outstanding class to learn articles if you had never started or fix a problem if you'd already started. Laura is a talented instructor with a depth of knowledge to guide the dog and handler to success. The course was tailored so that we have good guidance on how to continue progressing after the session is over. I wouldn't hesitate to take another class from Laura. Deb A.
---
This is The. Best. Fenzi course I have ever done (sincere apologies to the other instructors!). The class content was exactly what we needed after my girl earlier in the year had a huge scare at a show and froze in the ring (in the middle of doing our heel work routine) when she saw the dog that had attacked her, arrive at the show. This course helped us more than I can say, and I think we are well on our way to having the happy, confident dog again who has won obedience classes in the past. I'm battling to find enough superlatives - all I can say is THANK YOU LAURA for making a huge difference. The course content was perfect; loved the way it was delivered; loved the comments in the forums - simply loved it, full stop. This course IMHO should be compulsory for anyone intending to compete. Again - thank you.
---
I'm so impressed by this course and by the speed at which my dog picked up this method of training. We went from never having done any scentwork at all, (handler or dog) to getting a reliable nose-touch with duration on the correct article without any food on it (ever, now) and this has just enabled us to pass our TEAM1 and TEAM1+ titles :) (The scentwork was the only thing I had absolutely no idea how to train, as I don't come from an obedience background!) Thanks Laura!
---
After nearly 30 years in dogs and dog training, this is the first time I've seen something taught very different from what I know that I could buy into so completely. When I had questions in my mind or wondered about how it would affect other things, invariable, it would be covered in a later lesson and I could "get it." It made sense. Congratulations. I've never been so completely in agreement to a new way of things!!