Course Details
This class will lay out a plan for teaching scent articles. Step-by-step, it will guide those who have not yet begun training and for those stuck on how to progress.
We will discuss using a food based method to kick start the dogs' learning that it is a scent based activity and how to quickly fade the food as a prompt. Common problems in teaching articles will be discussed, from freezing over the pile to grabbing the first one they come across. If your dog has already started scent articles using a different method, we can discuss a plan for getting you back on track with the method you're currently using (IF I am familiar with it), or will start fresh with this method. (Note the lectures will discuss a food association method of teaching articles)
While a retrieve will eventually be needed for the full scent article exercise, it is not necessary to begin this class. Those dogs without a retrieve and dogs who tend toward grabbing behaviors will be taught to indicate their choice with a sustained nose touch to a flat metal/wood/leather item. In fact, most dogs I strongly recommend training with a flat article so we can separate out the act of scenting from the act of retrieving.
The full progression to scent article training from step 1 to the full formal exercise with a retrieve will be discussed in the lectures.
Here is team Sue and Brinkley showing their progression from this class!

Teaching Approach
Lectures are released at the start of each week, however this is a front loaded class. Meaning that almost all lectures will be released by week 4 to allow for students who have already strated to progress at their pace. Students new to scent articles will not be able to complete all the lectures in just 6 weeks!
The lectures are broken down by each skill, often in multiple parts. I have written objectives and then written instructions for each step followed by multiple video examples for each step. The videos are usually between 30sec to 2min long and are taken from training sessions of a variety of dogs. I rarely use voiceover in videos, but if it is added I have added/edited subtitles. At the end of each lecture is a homework summary with the steps quickly summarized in order.
Several videos will depict training being done with the handler sitting on the ground. These steps can be modified to have the handler sitting in a chair, and may also be modified to have the dog at a higher level such on a bed. You will need to be able to reach down and feed on top of the article in the early steps and will need to be able to do so quickly.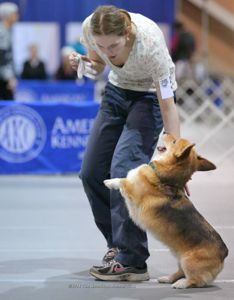 Instructor:
Laura Waudby
Laura Waudby (she/her) trains and competes in obedience, rally, and agility. She was halfway to her OTCH with her UDX corgi, Lance, before his uexpected early retirement. She also has championship titles in USDAA and UKI. By day...(Click here for full bio and to view Laura's upcoming courses)