Course Details
This class is all about foundations! Start a new dog on the right foot or discover missing pieces in your training. This class is designed to cover all the exercises in TEAM level 1. The TEAM program lays out the building blocks for developing very solid behaviors that the dog can perform in a variety of unique presentations!
The skill areas assessed in this TEAM course include: Engagement and Focus, Heeling, Fronts & Finishes, Distance work, Targeting, Jumping, Scent Work, and Impulse Control. The individual pieces of exercises are broken down for you in manageable steps! Introducing all these core areas from the start makes sure that obedience remains fun for both the dog and the handler!
This is an introductory course and makes no assumptions about your dog's prior knowledge. Whether you are new to competitive obedience training or you have discovered a need to revisit skills with advanced dogs, this course will help you prepare to title by video in TEAM or simply give you an excellent set of foundation skills for any dog sport or competition venue such as AKC or FCI obedience, freestyle, etc.
For more information on the TEAM titling program, please visit www.fenziteamtitles.com
Note: This class will have a Teaching Assistant for the facebook study group! This is available for all level students
Note for June 2020: Laura is pregnant and is due in July the last few days of class. She is committed to working forums if the baby arrives before the session has finished. However, there is a possibility that she will take a few days off whenever the baby arrives and the official end of the class will be pushed out a few days to adjust.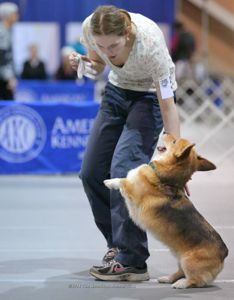 Instructor:
Laura Waudby
Laura Waudby trains and competes in obedience, rally, agility, and dabbles in disc dog and trick training. She was halfway to her OTCH with her UDX corgi, Lance, before his early retirement. She also has championship titles in USDAA and UKI. By day