Course Details
Does your dog seem to forget what sit means until you reach into your pocket? Do you struggle to get your dog's focus without a cookie in your hand? This foundation level class is designed to help dogs choose to work even when they can't see a reward, or the reward is in a tempting location, and to work with joy!
Topics in this class include
Teaching impulse control

Choosing to ignore distractions

Working with rewards at a distance

Starting to increase the duration of work between rewards


Teaching the dog to engage without seeing a reward

Keeping focus and staying on task even when the work takes you near the reward location.
Dogs of any age and experience level are welcome (recommended 6 months and up).
Here is a compilation video of some students from the October 2019 class!:
Teaching Approach
Lectures are released at the start of each week with more lectures than most students will be expected to complete within the 6 weeks of class. Students new to this topic will primarily be working on lectures from the first 3 weeks of class.
The lectures are broken down by each skill. I have written objectives and then written instructions for each step followed by multiple video examples for each step. The videos are usually between 30sec to 2min long and are taken from training sessions of a variety of dogs and breeds. I do not use voiceover or subtitles in the video. At the end of each lecture is a homework summary with the steps quickly summarized in order.
The handler will need to bend down to the floor to pick up a food bowl multiple times in a session for many of the skills. A food robot can be used in the place of a food bowl if that is physically easier for the handler.
This class will have a Teacher's Assistant (TA) available in the Facebook study group to help the bronze and silver students! Directions for joining that Facebook group will be in the classroom after you register.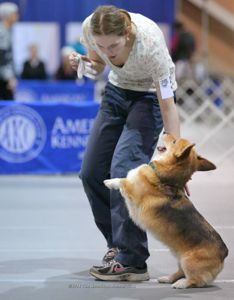 Instructor:
Laura Waudby
Laura Waudby (she/her) trains and competes in obedience, rally, and agility. She was halfway to her OTCH with her UDX corgi, Lance, before his early retirement. She also has championship titles in USDAA and UKI. By day...(Click here for full bio and to view Laura's upcoming courses)