Course Details
Does your dog seem to forget what sit means until you reach into your pocket? Do you struggle to get your dog's focus without a cookie in your hand? This foundation level class is designed to help dogs choose to work even when they can't see a reward, and to work with joy!
Topics in this class include
Teaching impulse control

Choosing to ignore distractions

Working with rewards at a distance

Increasing the duration of work between rewards


Teaching the dog to engage without seeing a reward

Keeping the dog engaged between work without food or toys (ie transitions between exercises or up to the startline through play or informal cues)
Dogs of any age and experience level are welcome.
Here is a compilation video of some students from the October 2019 class!:
Announcement: This class will be part of a program that will use a Teacher Assistant. (TA). If you join the FB study group for this course, then you will have access to a well qualified TA to assist bronze and silver level students who need additional support. There will be no change to the classroom itself here on the FDSA website and Laura will respond to all student threads as per usual. For more information about joining the FB Study group for this course, please see the class forums for specific information after you register for this class.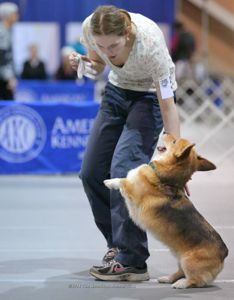 Instructor:
Laura Waudby
Laura Waudby (she/her) trains and competes in obedience, rally, agility, and dabbles in disc dog and trick training. She was halfway to her OTCH with her UDX corgi, Lance, before his early retirement. She also has championship titles in USDAA and UKI. By day...(Click here for full bio and to view Laura's upcoming courses)