Course Details
This class will teach you how to take your TEAM foundations skills in levels 1 & 2 and use those to create the formal chains used in trials. We will be looking specifically at the exercises in Open level of obedience from retrieves to the drop on recall, position changes, etc.
We will also take a look at what other TEAM skills can be used to help break these exercises down such as cone sends, backing up, and reverse sends!
Heeling is a topic in this class, however it is not a "heeling class" and looks more at tweaking what you already have.
This class welcomes students who have never set foot in a trial and don't know what the final picture looks like for each exercise, as well as students who are actively prepping for the ring and are struggling to problem solve an exericise, or just want it more polished!
You do not need to be close to trialing at any level to take this class! Take a look at the prerequisites to see if this class is right for you!
Teaching Approach
Lectures are released at the start of each week. The lectures are broken down by each skill, often in multiple parts. I have written objectives and then written instructions for each step followed by multiple video examples for each step from dogs still learning the behaviors. The videos are usually between 30sec to 2min long and are taken from training sessions of a variety of dogs. I rarely use voiceover in videos, but if it is added I have added/edited subtittles. At the end of each lecture is a homework summary with the steps quickly summarized in order.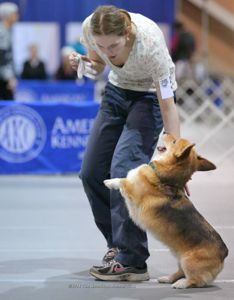 Instructor:
Laura Waudby
Laura Waudby (she/her) trains and competes in obedience, rally, and agility. She was halfway to her OTCH with her UDX corgi, Lance, before his uexpected early retirement. She also has championship titles in USDAA and UKI. By day...(Click here for full bio and to view Laura's upcoming courses)