Course Details
The service dog world is a huge industry with a wide range of assistance dogs and required skills. Some individuals choose to get dogs from organizations, but there are many who cannot get a dog from an organization but still want the help of an assistance dog.
In some cases, the client already has a dog assisting them in their home and they now want to take the dog's training to the next level. And in other cases, the client wants help in selecting a new service dog prospect.
Because few organizations will work with what are often called "owner trained" teams, these individuals often seek out the help of local trainers to help guide their training. Many trainers shy away from taking on these clients for fear of not knowing the legal requirements for service dogs.
This workshop will cover what the laws are and what type of public access training you should be emphasizing. We will also discuss what are the ideal dog qualities for public work and how to prepare the client for having a service dog. This workshop will not go into task training for specific disabilities.
Syllabus:
The difference between service dogs, emotional support dogs, therapy dogs
Laws for public access, housing, airports, and private property
Dogs in training vs. completed training
Certification

What are the rights of businesses?

Should you take on this type of client?
Preparing the client to deal with the public
Assistance Dogs International (ADI) public access test
What signs should you look forward to determine whether a dog is a good fit for work in public
Common service dog skills for easier management in public
Talking to the client- etiquette when working with clients with disabilities
Check out the trailer: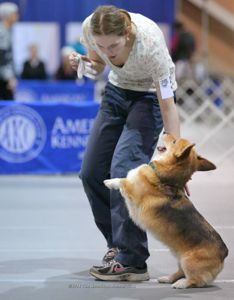 Instructor:
Laura Waudby
Laura Waudby (she/her) trains and competes in obedience, rally, and agility. She was halfway to her OTCH with her UDX corgi, Lance, before his uexpected early retirement. She also has championship titles in USDAA and UKI. By day...(Click here for full bio and to view Laura's upcoming courses)