Course Details
This course is officially expanded to include agility as well as obedience and rally!
Most handlers spend months or even years teaching their dogs the specific exercises and obstacle performance found in the obedience and agility ring. We heel for months, and then we spend several more months making sure our dogs can perform their heeling with a wide variety of distractions. We teach retrieves, exams, recalls, and stays. We make sure our weave pole entrances and our contact performances are independent and fast. Yet we often fail to teach our dog what to actually expect at a trial. They are thrown into this new, chaotic environment with a stressed handler. It is the first time they see a stranger approaching to take their leash, another person who seems to be in charge other than mom is giving orders, and there is so much novel stuff to look at! Most dogs experience a great deal of stress as they are plunked in this new world and many of them do not just get better with repeated exposure.
The solution is simple but rarely practiced: you must teach your dog to understand the positive value of the competition ring. A dog who is well prepared to enter a competition ring with emotional comfort and sharp focus has a significant advantage over dogs who do not receive this systematic ring preparation experience. This class will help prepare you and your dog to enter an obedience, rally, and agility ring with confidence. We will do this by training the dog to understand her job at the ring entrance, reducing ring stress, and systematically preparing for the distractions which could crop up along the way!
What type of teams should take this class?:
Young dogs who have not yet started trialing. Give these dogs a great foundation for the future!
Dogs who are fine in the general show environment but stress and worry once in the ring itself.
Dogs who disconnect and lose focus once in the ring.
*If your dog shuts down at the entire dog show scene, check out Dr. Amy Cook's Class "Dealing with the Bogeyman" first.
Gold students can choose to focus on either obedience or agility (or a bit of both!).
Check out this short informational video:
and here's a compilation video made by one of Denise's Ring Confidence students:
Note for June 2020: Laura is pregnant and is due in July the last few days of class. She is committed to working forums if the baby arrives before the session has finished. However there is a possibility that she will take a few days off whenever the baby arrives and the official end of the class will be pushed out a few days to adjust.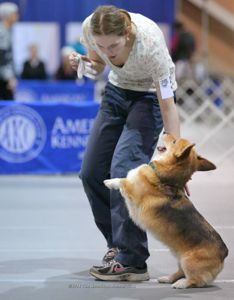 Instructor:
Laura Waudby
Laura Waudby trains and competes in obedience, rally, agility, and dabbles in disc dog and trick training. She was halfway to her OTCH with her UDX corgi, Lance, before his early retirement. She also has championship titles in USDAA and UKI. By day