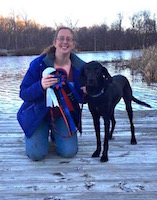 Stacy Barnett (she/her) is a successful nosework competitor, being one of only a handful of teams titled through the Summit Level (SMT) in NACSW with her dog, Judd. In fact, she and Judd have earned THREE Summit titles (SMTx3)! Stacy is also an international clinician and AKC scent work judge. Her mantra is CONFIDENCE, MOTIVATION, SKILLS and STAMINA. Her specialty is getting teams ready for competition!
Stacy is also an "expert judge" and a licensed judge with the AKC for all levels of competition.
Stacy started her Labrador, Judd, in nosework using operant conditioning methods as taught by the Fenzi Academy. Judd quickly sailed through NW1 through NW3 Elite, becoming one of the very first FDSA trained Elite teams. Stacy and Judd are a multiple High In Trial team and have titled in both the U.S. and Canada with high score awards. Together they compete in NACSW, AKC, and SDDA (Canada). Her Miniature American Shepherd, Why, has recently debuted in NW3 after earning overall Pronounced in his NW2, and her Standard Poodle, Joey, recently earned his first NW3 title. Stacy and Judd are competing at the NACSW Summit Division Level and were invited to compete at the 2017 NACSW National Invitational ... where they earned several search placements! Judd placed in the top 3 overall at many of his Elite Division trials and holds the distinction of being the first Labrador in the country to achieve ELT2 and was the second dog in the country to achieve ELT3. Judd was also the first Labrador in the country to achieve ELT-CH (Elite Champion). Stacy and Judd have since gone on to become one of the first handful of teams to earn the highest title in NACSW, the Summit Title (SMT). Brava, her young Labrador, is her newest team member. Brava earned all of her Novice AKC titles and had her SDDA Advanced title (Canada) WELL before her first birthday! At two years old, she earned all 3 NW3 passes for her NW3 Elite in only 3 tries, and she is working on finishing her Excellent and Masters titles in AKC! Her young puppy, Powder, is getting ready for a fabulous future!
She also trains with top local NACSW trainers and Elite Level certifying officials on a regular basis. With this and her degree in chemical engineering, Stacy has developed a solid understanding of scent theory with many tools in her toolbox. She prides herself on being able to bring creative solutions to build odor obedience, confidence, drive and motivation for the sport. Judd himself is by nature a timid, soft dog and Stacy has been able to transform him into a highly competitive Elite Level dog. With Why, she has conquered his significant environmental issues ... and with Joey she has built tremendous drive where there was little motivation for the sport to start. Stacy is the author of the popular blog, Scentsabilities Nosework, as well as being a popular internationally booked clinician for seminars.
One of Stacy's strengths in nosework is trial preparation. She is able to evaluate the needs of the dog and develop a plan for setting the dog up for success. As a result she was able to prepare Judd for trialing in record time and has enjoyed an extremely high pass rate with fast times and placings. She's an experienced nosework competitor and knows what it takes to succeed in this exciting sport.
Stacy loves helping others and her enthusiasm for the sport is contagious. Even greater than her love for the sport is her love of teaching. She prides herself on being a highly creative, enthusiastic and caring instructor, easliy able to teach all levels of nosework students. Stacy loves seeing teams flourish in the sport and enjoy what has become an extremely popular outlet for all dogs.
Stacy's personal website and blog, Scentsabilities Nosework: http://scentsabilitiesnw.com
Pronouns: Stacy goes by she/her.
NOTE: NW120S has been restructured in order to allow students from NW101 to catch up as needed with the help of either the Instructor (for Gold Spots) or the Teaching Assistan...
April 1, 2021
NOTE: This class WILL emphasize training needs resulting from the revised NACSW rulebook for 2020 inculding Blank Search Areas Want to take your Nosework skills to th...
April 1, 2021
Instructor: Stacy Barnett The ultimate skill in sport detection is Sourcing. When a dog understand true sourcing, skills like working pooling, trapped, lofting odor or ...
April 1, 2021
Want to continue the Nosework fun? Then this class is for you! This is the third skills level course in our nosework program and will...
June 1, 2021
Every team is on a trajectory, and that trajectory either takes them down a path of success or down a path fraught with challenges. The difference along this path is r...
June 1, 2021
Nosework is easily the hottest new sport around, and it's easy to see why! It's fun for humans, dogs love to participate, and it's good for building confidence and focus...
August 1, 2021
NOTE: NW120S has been restructured in order to allow students from NW101 to catch up as needed with the help of either the Instructor (for Gold Spots) or the Teaching Assistan...
October 1, 2021
Self-Study Classes - available for lecture purchases only.
Does your dog look like this? And you wish your dog looked like this? THAT is what this class is about! First do you know WHY your dog box smashes? We wil...
If you're already addicted to Nosework and can't stand the thought of a new opportunity passing you by…welcome to the new AKC Scent Work program! This class will get ...
This class is designed with written assignments and thought provoking questions that students will use to discuss how to PLAN AND RUN a successful in person Nosework c...
This self-study option is a series of three recorded webinars that work together. There are no written lectures. Recorded Webinar 1 - Reading Your Dog Seri...
Have a question about an upcoming course taught by Stacy? Not sure if your dog is suitable for a specific class? We welcome you to contact instructors by email to make sure the course is suitable for you and your dog.
I will seek out Stacy again. I so enjoyed her teaching style and sharing her experiences really helps prepare you. I feel I have a good plan and much better understanding of what we need to succeed at the higher levels of NoseWork. I will certainly consider being Gold next time as it was clear all the participating Gold students learned quite a bit and improved their handling and skills.
---
Everything you ever wanted to know about competition scent work and scent theory and more! Stacy Barnett isn't just a great competitor she's a fantastic instructor and gives each individual team exactly what they need to succeed. Her lectures on scent theory are invaluable. I highly recommend her courses to anyone interested in scent work with their dogs — even if they don't compete!
---
Another phenomenal six weeks!!! Class after class Stacy brings out the best in everyone and provides detailed insight and feedback. She ensures success and encourages her students to challenge themselves while building confidence. Ana C.
---
This was my first gold at Fenzi and I haven't regretted a second. :) We (me and my dog) had so much fun on the course and we got so much helpful feedback and positive encouragement from the instructor. Super course.
---
I had hesitated to try Nosework because it didn't seem as exciting as other sports, but as a novice handler with an independent, reactive dog, I wanted to find an activity that might come more naturally to us as a team...we are hooked! It is a special kind of thrill to see my dog starting to understand and search for odor, all in just 6 weeks. There was an assortment of breeds and temperaments in the class, and Stacy had strategies and solutions for everyone, including some great motivational games. She posted relevant videos and advice on the forum for discussion, and feedback on videos was always encouraging and helpful. Stacy's enthusiasm for the sport is obvious...and contagious! Anne T.
---
Stacy was always encouraging, and quick to point out the dogs' successes. She worked effectively with high-drive dogs, sensitive dogs, and everything in between.
---
Stacy's enthusiasm for the sport is infectious, and her responses to student were always so encouraging and helpful at the same time. She is great about presenting constructive feedback in a positive way.
---
Stacy is an amazingly talented and caring instructor who works hard to help her students train hard for easy trialing. Thanks, Stacy! - Cheryl M.
---
Definitely even better than expected, and I felt confident it would be good — didn't imagine it would be magnificent.Will seek this instructor out again. It was very clear she knew the subject and was very committed to student progress and success. Her use of personal experience was most helpful.
---
Stacy is the epitome of an incredible, caring instructor! She clearly cares about her students and their progress.