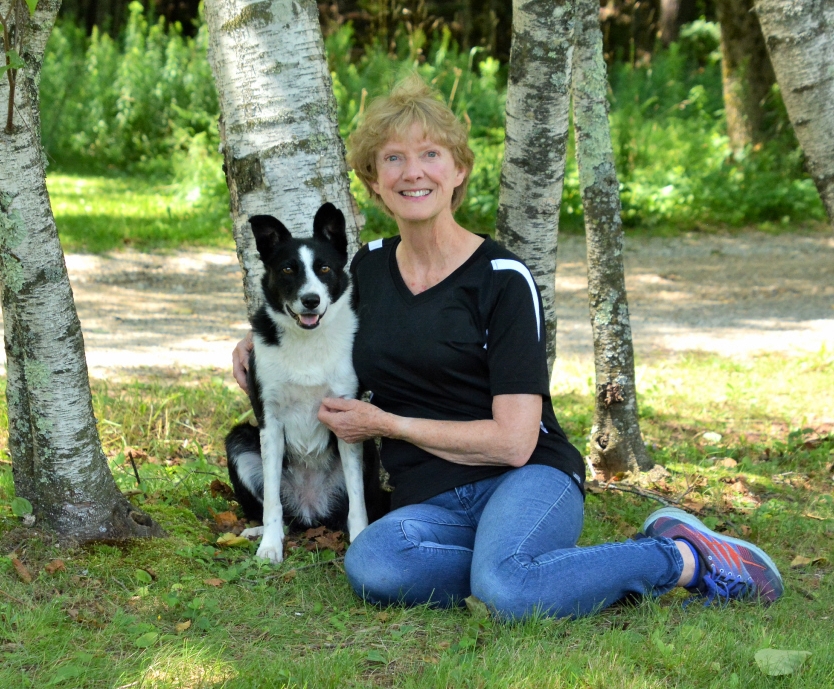 Julie Daniels (she/her) won her first award for writing in the fourth grade, and she was training dogs long before that. Today Julie Daniels is one of the foremost names in dog agility in the United States. She was one of the early champions of the sport and helped many clubs throughout the country get up and running. In 2015 Julie moved to Deerfield, NH, where she opened Kool Kids Agility. For 28 years, Julie owned and ran White Mountain Agility, a 90-acre dog heaven in North Sandwich, NH. That school operated since 1993, and Julie developed many Agility and Behavior theme training camps there, including Wild Child, Speed-Em-Up, Novice Genius, Jumping Genius, and the world-renowned WMA Instructor Certification Course, which honed the skills of hundreds of teachers and thousands of dogs worldwide. She is well known as a premier teacher at all levels of play, and she loves all kinds of dogs.
She has titled and won with all sorts of dogs through the years, including two Rottweilers, a springer spaniel, a cairn terrier, two corgis, and five border collies. Julie is the only person to make USDAA Grand Prix Agility finals with a Rottie or a springer, and she did it two times each.
In international agility competition, Julie is a member of two gold-medal-winning teams. She is a two-time USDAA National Champion as well. She has won many televised events, including the Purina Incredible Dog Challenge and the ESPN Great Outdoor Games. Three of her border collies, Spring, Clark, and Sport, have made the Challenger's Round at AKC National Championships. Julie and Spring are the only team to win the International Class three years in a row at Springfield, the largest agility trial in the US. Julie and Spring also made an appearance to promote agility on Good Morning America.
Julie's current competition dog is MACH2 MAD Sport, who is a few legs from his ADCH in limited showing. He is a soft dog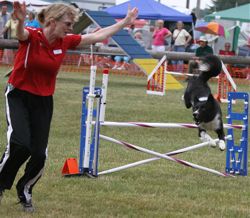 who started off "slow and thoughtful." Now he pumps himself up to run and shoots off the line like the champion he can be. Motivation is everything! Julie now has a young border collie, Koolaid, who is already a dynamic presence in several FDSA classes.
Julie is well known worldwide as the expert commentary voice of Cynosport agility, doing the livestream video broadcasts seen all around the world.
Julie is an expert in the art and science of operant training, and her approach works! She has always taught "dog's choice" games as a way to develop agility partnerships. Her first agility book was published in 1991 and the "dog's choice" games were actually controversial at that time! But she was nominated for a Dog Writer's Award nonetheless and has never waivered in her philosophy. Julie is the author of three DVDs and four agility books, including an update of her award-winning foundation training book, Enjoying Dog Agility.
Pronouns: Julie goes by she/her.
This class is for dogs who have trouble with the environmental conditions they meet in their life with you. Is your dog aroused by other dogs, afraid of new people...
December 1, 2023
Raising a puppy is the lucky job we get to enjoy only once in a while! The time goes so quickly, and when the time is up the opportunity to play the baby games with the clean ...
February 1, 2024
In dogs, adolescence starts anywhere between 6 and 12 months and typically ends somewhere between 18 months and 24 months, but can extend until much later in some dogs. Adoles...
April 1, 2024
Self-Study Classes
The goal of this course is for your dog to be able to weave 12 consecutive poles with confidence, accuracy, and joy. It is a good course for newcomers, for retraining ...
The regulation see-saw is a complex obstacle, with several elements of difficulty in play at once. Even dogs with agility titles are often tolerating the see-saw but not lovin...
Training Videos On Demand
Building Puppy Confidence! Raising a puppy to do well in a human-centered world is a big challenge! And every puppy is a mix of easy and difficult traits...
This workshop will teach you new ways to play using toys, food, eyes, hands, energy, laughter, movement and touch! We'll look at creative ways to interact with and enjoy our ...
Have a question about an upcoming course taught by Julie? Not sure if your dog is suitable for a specific class? We welcome you to contact instructors by email to make sure the course is suitable for you and your dog.
Contact Julie at JulieDanielsNH@gmail.com
I am so happy I took this class. Julie is a very insightful and encouraging teacher. My dog and I came to this class with exactly zero experience each on weaves. He has gone from not quite sure about it to happily cantering through a very narrow weave channel and now even has begun actual weaving through the poles. To me this is quite impressive for such a short class. I wish the class would keep going. If it is offered again I would take it again, as I've seen Julie can help you advance no matter what level you are at. Lisa H.
---
This was a great class. I was hesitant at first to take an online agility class as a green handler with a green dog for a foundations class. As it turns out I was able to get more out of this course with the detailed feedback I got of video analysis and with the overall increased comfort level of my sensitive dog who tends to need to go slower than the pace of in person agility classes. I was extremely impressed and encouraged by Julie's total understanding/acceptance of my dog's mental state/drive/confidence as well as the physical challenges of my non- standard agility breed (Great Dane). She has really brought to light an overall methodology for working with my dog that transfers to everything and doesn't apply to the weaves. I felt that this class was extremely useful for such a technical obstacle and as a beginner it was great to be able to concentrate on it in isolation. I love that I have the notes to review every one of my videos and that it's not up to my on my toes memory as to what feedback I remember from an in person class. This is not meant as a negative to in person agility classes; however this is both a great supplement to in person agility or a fantastic option for those who dont have in person facilities available. Tanya M.
---
Fantastic course! Warm, exuberant, positive instructor -- Julie Daniels. Specific goals named every step of the way and what to look for as you are heading towards the main goal of the course. I took AG240 Foundation Weaves to test the waters of online agility education in general and Fenzi Academy in particular. My dog can complete the weaves and find his entrances 90% of the time, but his journey through the weaves has been lackluster. Our instructor taught us to look for and recognize confidence every step of the way before moving on. Although we had learned to weave via channels and 2 x 2s before this class, her particular take on successful weaving from the ground up minimized the opportunity for failure, which builds confidence into the equation. Also, with an online class an having lectures available for a year, a student can go at his or her own pace and catch up later. Exceptionally excellent teaching. Videos show how to turn a mistake into a learning moment. Typical and atypical agility dogs (HOORAY!!!) were included in the examples used. My dog and I give it 6 paws up.
---
I am a huge fan of Julie's classes. They are all about making the handler think about how to best build confidence and empowerment in the dogs. Julie goes out of her way to consider the specific needs of each dog as she learns them. The games are all great fun, simple to play yet complex in what they teach.
---
Fun, engaging, enlightening and thorough are the first superlatives that come to mind to describe Julie's Backyard to Competition class. Julie's passion to guide each handler in bringing out the best in their team is truly notable. Positive training at its best! Thank you Julie! Sally M.
---
The course has been enjoyable and very beneficial for both dog and handler. Julie's games and challenges have provided an excellent basis for gaining the dog's focus on a task and celebrating the reward. I especially found her evaluation of the videos to be helpful. I tend to be critical of myself/my dog and what we did or didn't do on a particular exercise. Julie's critiques have helped me see the good in what I thought was bad and where the good can even be made batter. My dog started out almost afraid of her own shadow and over the past 6 weeks has been able to deal with strangers in the ring – stationary and wandering as a judge – both at home and in a new environment. She has encountered strangers – adults, children and babies – on the street and in hotel environments and not been reactive for the first time in her life. We still have a lot of work to do but I think Julie has given us guidance and the tools to get the dog's focused arousal into the ring and go after that CJ out there beyond where her leash is waiting. Above all - to have fun doing it! Bob M.
---
Another awesome course by Julie! Julie is so inspiring and she is such an effective teacher. I'm looking forward to her next class.