Course Details
If you're already addicted to Nosework and can't stand the thought of a new opportunity passing you by…welcome to the new AKC Scent Work program!
This class will get you ready to take the skills that you already have, add a few new rules here and changes there, and - send you on your way to this exciting new venue!
We'll introduce the idea of buried hides (and teach you how to get started), explain how the new rules will affect you and generally get you started in preparing for this new and exciting venue! AKC Distractions are also introduced.
For more information about the new AKC Scent Work program: http://www.akc.org/events/scent-work/news-updates/
Stacy Barnett is a licensed AKC Judge for all levels of AKC Scent Work as well as an AKC Contractor (she provides consulting to the AKC regarding the Scent Work program)
*** Note that this class does NOT teach Handler Discrimination nor does it teach HOW to do the sport of Scent Work. This class is intended for teams already working odor. ***
Here's Judd sourcing a hide buried 8 inches below the surface of the ground!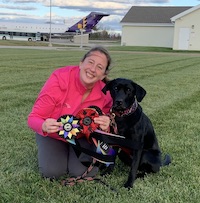 Instructor:
Stacy Barnett
Stacy Barnett is a top nosework competitor and trainer, being the first handler to title multiple dogs with multiple Summit Level titles in the National Association of Canine Scent Work (NACSW), (Judd SMTx3, Brava SMTx2). Stacy has been a faculty member at Fenzi Dog Sports Academy since 2015 (Click here for full bio and to view Stacy's upcoming courses)