Course Details
Do you dream of a reliable real-life recall? Do you dream of a dog who pays attention to you, making sure not to lose you when you're out on an off-leash hike? A dog who keeps a certain radius around you? A dog who can be called off distractions like horse poop or squirrels? Do you want to learn how to effectively reward your dog even when you forget the cookies at home? Are you up for some interactive fun - no matter whether you are in your own yard, strolling through an urban area, or out on a nature hike? Come join us in Calling All Dogs!
The foundations for a great recall are a great relationship, a dog who believes it is HIS responsibility not to lose his human, and a human who knows how to effectively and creatively reward her dog. We will work on each of these elements separately before combining them into a recall in increasingly difficult environments.
** Depending on students' and dogs' previous knowledge and skill level, and the degree of independence and environmental focus of a particular dog, what can be achieved in this class will vary. However, if you work through the exercises and observe your dog closely, you will get to know him better, learn how to make your walks more interactive and fun for him, and improve your recall significantly.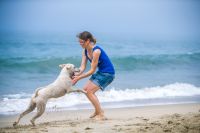 Instructor:
Chrissi Schranz
Dog trainer, translator and traveler Chrissi is based in Antigua, Guatemala. She has been fond of dogs of all sizes, shapes and personalities for as long as she can think