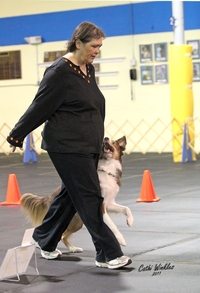 Deborah Jones, Ph.D. is a psychologist who specializes in learning theory and social behavior. She taught a variety of psychology courses at Kent State University for the past 20 years. Deb has been training dogs for performance events for the past 25 years and was an early innovator in the use of clicker training techniques in dog training. She has owned and worked with a variety of breeds and has earned top level titles in agility (MACH), rally (RAE), and obedience (UD) competitions. Her focus is on developing training methods that are enjoyable and effective for both the dog and the trainer. Her mission is to help others develop strong positive relationships with their dogs. Her favorite saying is "it's all tricks!"
In 2004 Deb developed the FOCUS training system, along with agility trainer and World Team member Judy Keller. FOCUS stands for Fun, Obedience & Consistency lead to Unbelievable Success. They first applied FOCUS training to agility dogs but quickly realized its usefulness for all dog sports. Their latest work is "The Focused Puppy," which lays out a strong and systematic foundation for all future training. Deb has written a series of 4 books with Denise Fenzi titled "Dog Sport Skills." She also recently finished a book on cooperative care.
Deb has taught a variety of dog training classes, workshops, and seminars. She loves teaching in an online format!
Deb's website is www.k9infocus.com and her blog is at k9infocus.wordpress.com.
Confidence in Nosework isn't always best addressed by setting out hides and practicing searches. Sometimes we want to work on confidence and comfort in the search enviro...
October 1, 2020
In this class we will work through all the steps and fine details required to develop a precise and reliable competition-level dumbbell/scent article/glove retrieve. We will ...
October 1, 2020
Can you draw blood from a whale without force? Yes, you can. What about put eye drops into a sea lion's eyes with no fuss? Again, yes you can. But you...
December 1, 2020
Self-Study Classes - available for lecture purchases only.
There is nothing as exciting, or as terrifying, as starting training with a new puppy. If you have high hopes that this pup will be your next performance partner...
In our opinion, dog training really is "all tricks." There's no distinction between "serious" work and "fun" work. It's all fun if you're doing it right! &...
Training with Remote Reinforcement Remote reinforcement devices (such as a Treat & Train, Manners Minder, or Pet Tutor) can offer some unique advantages to your t...
Have a question about an upcoming course taught by Deb? Not sure if your dog is suitable for a specific class? We welcome you to contact instructors by email to make sure the course is suitable for you and your dog.
I was impressed with how involved and in depth the instructors were with each of the gold level students. Very labor intensive but I learned a great deal because the instructors went so in depth. Diane H.
---
The instructors were great and gave honest and very helpful feedback. Jody and Ursa
---
My first Fenzi course was Performance Fundamentals with Deb and Judy. What a great course! I learned a lot and really enjoyed the exercises. Judy and Deb provided great, timely feedback. This was a super course for anyone interested in performance events in the future. Every lesson was well thought out and there were thorough videos and explanations for each exercise. Griffin and I had so much fun with the class. Highly recommended! Kelli Whitfield
---
Deb and Judy are fantastic instructors. I appreciate the flexibility, and plan to enroll in another round right away to keep going. This course is great fun for both me and my dog. I always felt welcome to ask questions, and fully appreciate the constructive feedback.