Course Details
In our opinion, dog training really is "all tricks." There's no distinction between "serious" work and "fun" work. It's all fun if you're doing it right!
Teaching tricks can, however, lead to huge and long-lasting benefits for your competition work. Far from being silly and inconsequential, tricks can be the building blocks for more advanced work. Trick training helps you form a strong and mutually enjoyable working relationship with your dog. Teaching tricks gives you valuable training experience by allowing you to practice a variety of techniques (shaping, luring and targeting), develop a training plan for a behavior from start to finish, improve your timing, and set criteria appropriately. And most importantly, trick training is just plain fun!
The tricks we will focus on in this class will have application to competition training and showing. Left and right spins, hand touches, backing up, weaving between your legs, sitting up, paw touches, chin rest, take a nap, go to bed, and play dead are some of the tricks we will work on. In addition to teaching these tricks, we will talk about how they can help improve your dog's focus, lower his stress level, and make teaching competition behaviors much easier.
Students will work at their own level and pace. If your dog already knows the basic trick behavior, we will add more challenges by working on distraction and stimulus control. There are also an infinite number of variations to each trick. Although this course is appropriate for dogs of all ages (puppies through seniors), and at all levels of training, please carefully consider your dog's physical and mental state awhen choosing and training tricks.
Here's a trailer showing some of the tricks we'll be working on: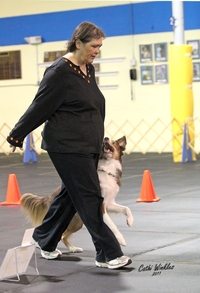 Instructor:
Deborah Jones
Deborah Jones, Ph.D. (she/her) is a psychologist who specializes in learning theory and social behavior. She taught a variety of psychology courses at Kent State University for the past 20 years. Deb has been training dogs for performance events for the past 25 years and was an early...(Click here for full bio and to view Deb's upcoming courses)