Course Details
Training with Remote Reinforcement
Remote reinforcement devices (such as a Treat & Train, Manners Minder, or Pet Tutor) can offer some unique advantages to your training program. While these devices are often used for behavioral issues such as separation anxiety or crate manners, we are going to focus on teaching and reinforcing specific behaviors. Having reinforcement provided at a distance is highly beneficial to train a variety of obedience behaviors (drop on recall, signal exercise, go outs, directionals, out of sight stays, etc) and a variety of agility skills (contacts, weaves, send aways, etc).
We will begin with the initial introduction to the device and recommendations for the first behaviors to teach. Then we will shape a variety of behaviors (some of which your dog may already have on cue) with props. Next we will cover getting multiple repetitions for a single reinforcement, how to refine behaviors, when and how to use jackpots appropriately, how to increase duration, and how to teach simple discriminations. We will also consider when this type of reinforcement is appropriate and useful, and when it is better to provide reinforcement directly from you. We will alternate between these in our training.
As a bonus, training with a remote reinforcer is simply great fun for both you and your dog! It offers your dog a distinctive type of mental and physical challenge while offering you a fresh way to train!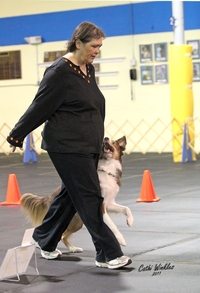 Instructor:
Deborah Jones
Deborah Jones, Ph.D. (she/her) is a psychologist who specializes in learning theory and social behavior. She taught a variety of psychology courses at Kent State University for the past 20 years. Deb has been training dogs for performance events for the past 25 years and was an early...(Click here for full bio and to view Deb's upcoming courses)