Course Details
What is Zen Focus? It is a workshop that combines two incredibly important and often overlooked concepts. As an experienced trainer and instructor you know that having a focused dog makes training so much easier. And you also know that a dog who understands the concept of zen (self-control) is so much more pleasant to live with. This workshop will give you a variety of fun beginner level exercises to introduce these concepts to your students.
Learning Objectives:
1) To introduce the concept of focus to your students.
2) To introduce the concept of zen to your students.
3) To provide you with a variety of fun exercises that will help your students train these concepts.
Class Syllabus:
What is focus and why does it matter?
Focus exercises
What is zen?
Zen exercises
Watch the trailer: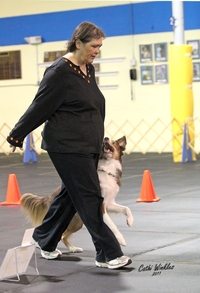 Instructor:
Deborah Jones
Deborah Jones, Ph.D. (she/her) is a psychologist who specializes in learning theory and social behavior. She taught a variety of psychology courses at Kent State University for the past 20 years. Deb has been training dogs for performance events for the past 25 years and was an early...(Click here for full bio and to view Deb's upcoming courses)