Course Details
There is nothing as exciting, or as terrifying, as starting training with a new puppy. If you have high hopes that this pup will be your next performance partner, the pressure definitely intensifies. You want to do everything right to maximize your pup's potential and develop an amazing working partnership. With that goal in mind we will focus on concepts, skills, and exercises that will give your pup a solid foundation for a career in a variety of dog sports. We will use the book The Focused Puppy as a guide for this class.
While covering a range of puppy topics, we will emphasize focus, a solid recall, developing an "operant" dog, impulse control, and nurture a love of interactive play, always working at the speed that is comfortable for your dog. Sound interesting? Come join us!
This class is targeted at puppies from 2 to 6 months old, but may be appropriate for older dogs on a case by case basis. Feel free to contact Deb Jones if you're unsure about your situation.
Check out our promotional video!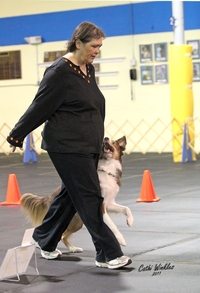 Instructor:
Deborah Jones
Deborah Jones, Ph.D. (she/her) is a psychologist who specializes in learning theory and social behavior. She taught a variety of psychology courses at Kent State University for the past 20 years. Deb has been training dogs for performance events for the past 25 years and was an early...(Click here for full bio and to view Deb's upcoming courses)