Course Details
For some people - and dogs - play comes naturally. But did you know that good play is more than simply WANTING to interact with your dog? Good play requires the ability to engage with your canine companion on a level that taps into his natural interests, and this ability is one part art and one part mechanical skills. This class will teach you both of these elements.
We'll discuss the correct presentation of toys, learning how to make cookies into an event, and understanding how to interact with your dog in the way that he likes best. It takes time and effort to learn your dog, to know what to do, when to do it, and when to STOP doing it. Taking this time is well worth the effort because the end result will be a dog who naturally looks to you for both direction and entertainment.
This class will introduce one form of play at a time. With over 70 videos featuring a variety of breeds, sizes of dogs, and handlers, you're sure to find the information you need to form a fun and satisfying play relationship with your individual dog!
Is this course right for you? This class offers extensive written lectures, no verbal lectures, and many videos of varying lengths (up to 5 minutes), designed to help a student understand the context of a play session - what works, what does not work, and how that will vary by dog. It is rare that relevant speaking takes place within a video; they are designed to be watched and follow with the ideas presented in the lecture. There are no specific homework assignments as this is a concept course that requires studying your dog and finding the route that works best for your team. A wide variety of techniques will be suggested and illustrated with video. This class will work best for students who learn best by reading text lectures, watching videos and who feel comfortable trying out a variety of approaches until they find the ones that works best for their dog.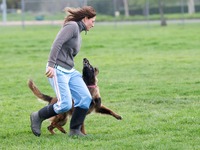 Instructor:
Denise Fenzi
Denise Fenzi (she/her) has competed in a wide range of dog sports – titling dogs in obedience (AKC and UKC), tracking (AKC and schutzhund), schutzhund (USA), mondioring (MRSA), herding (AKC), conformation (AKC), and agility (AKC). She is best known for her flashy and precise ... (Click here for full bio and to view Denise's upcoming courses)