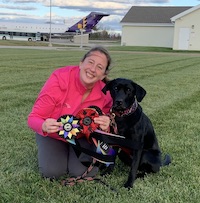 Stacy Barnett is a top nosework competitor and trainer, being the first handler to put Summit titles on 3 dogs (Judd SMTx3, Brava SMTx2, Powder SMT) in the National Association of Canine Scent Work (NACSW). Stacy has been a faculty member at Fenzi Dog Sports Academy since 2015 and is an international clinician for seminars around the world. She is a licensed Judge for for AKC Scent Work where she was also retained in an advisory position for the AKC Scent Work program for 2 years. Stacy is the author of the popular blog, Scentsabilities Nosework, and has delivered over 200 educational webinars since 2017. Stacy also co-hosts the popular podcast, K9 Detection Collaborative with Robin Greubel and Crystal Wing.
With her degree in Chemical Engineering and her understanding of fluid flow dynamics, she has a deep understanding of odor movement. She believes in utilizing Scent Theory and odor to educate and craft the highly competitive nosework dog as well as bringing enrichment to dogs using Nosework as an activity to build confidence. She prides herself in being able to bring creative solutions to build odor obedience, confidence, drive, and motivation for the sport. Her mantra is CONFIDENCE, MOTIVATION, SKILLS and STAMINA.
Stacy's approach to training goes beyond just setting Nosework hides. She takes an approach that cares for both the emotional and the cognitive aspects of the dog in order to help bring out the dog's full potential. Her approach is not only reflected in her own dogs' successes but also in her students. Stacy truly finds joy in tapping into a dog's desire to search and to communicate with the handler.
Stacy loves helping others and her enthusiasm for the sport is contagious. Even greater than her love for the sport is her love of teaching. She prides herself on being a highly creative, enthusiastic and caring instructor, easily able to teach all levels of Nosework students. Stacy loves seeing teams flourish in the sport and enjoy what has become an extremely popular outlet for all dogs.
Stacy's personal website and blog, Scentsabilities Nosework: http://scentsabilitiesnw.com
Pronouns: Stacy goes by she/her.
Did you know that the MOST important time in a dog's early career in Nosework happens AFTER they learn target odor (as in NW101) and BEFORE they start their general searching?...
October 1, 2023
Want to take your Nosework skills to the next level? Moving up to NW2 and NW3 means new and more challenging skills. Hides at these levels start to get more complicated so it...
October 1, 2023
Are you looking for ideas to give your training a boost? Do you want a class that will let you conquer your goals in small bites? This class is for the busy noseworker who wan...
October 1, 2023
Nosework is easily the hottest new sport around, and it's easy to see why! It's fun for humans, dogs love to participate, and it's good for building confidence and focus...
February 1, 2024
Did you know that the MOST important time in a dog's early career in Nosework happens AFTER they learn target odor (as in NW101) and BEFORE they start their general searching?...
April 1, 2024
Self-Study Classes - available for lecture purchases only.
Does your dog look like this? And you wish your dog looked like this? THAT is what this class is about! First do you know WHY your dog box smashes? We wil...
If you're already addicted to Nosework and can't stand the thought of a new opportunity passing you by…welcome to the new AKC Scent Work program! This class will get ...
This class is designed with written assignments and thought provoking questions that students will use to discuss how to PLAN AND RUN a successful in person Nosework c...
This self-study option is a series of three recorded webinars that work together. There are no written lectures. Recorded Webinar 1 - Reading Your Dog Seri...
Searching Fun for Enrichment and Confidence Building Did you know that sniffing actually FEELS GOOD to the dog? Get in on one of the best activities to b...
Have a question about an upcoming course taught by Stacy? Not sure if your dog is suitable for a specific class? We welcome you to contact instructors by email to make sure the course is suitable for you and your dog.
I will seek out Stacy again. I so enjoyed her teaching style and sharing her experiences really helps prepare you. I feel I have a good plan and much better understanding of what we need to succeed at the higher levels of NoseWork. I will certainly consider being Gold next time as it was clear all the participating Gold students learned quite a bit and improved their handling and skills.
---
Everything you ever wanted to know about competition scent work and scent theory and more! Stacy Barnett isn't just a great competitor she's a fantastic instructor and gives each individual team exactly what they need to succeed. Her lectures on scent theory are invaluable. I highly recommend her courses to anyone interested in scent work with their dogs — even if they don't compete!
---
Another phenomenal six weeks!!! Class after class Stacy brings out the best in everyone and provides detailed insight and feedback. She ensures success and encourages her students to challenge themselves while building confidence. Ana C.
---
This was my first gold at Fenzi and I haven't regretted a second. :) We (me and my dog) had so much fun on the course and we got so much helpful feedback and positive encouragement from the instructor. Super course.
---
I had hesitated to try Nosework because it didn't seem as exciting as other sports, but as a novice handler with an independent, reactive dog, I wanted to find an activity that might come more naturally to us as a team...we are hooked! It is a special kind of thrill to see my dog starting to understand and search for odor, all in just 6 weeks. There was an assortment of breeds and temperaments in the class, and Stacy had strategies and solutions for everyone, including some great motivational games. She posted relevant videos and advice on the forum for discussion, and feedback on videos was always encouraging and helpful. Stacy's enthusiasm for the sport is obvious...and contagious! Anne T.
---
Stacy was always encouraging, and quick to point out the dogs' successes. She worked effectively with high-drive dogs, sensitive dogs, and everything in between.
---
Stacy's enthusiasm for the sport is infectious, and her responses to student were always so encouraging and helpful at the same time. She is great about presenting constructive feedback in a positive way.
---
Stacy is an amazingly talented and caring instructor who works hard to help her students train hard for easy trialing. Thanks, Stacy! - Cheryl M.
---
Definitely even better than expected, and I felt confident it would be good — didn't imagine it would be magnificent.Will seek this instructor out again. It was very clear she knew the subject and was very committed to student progress and success. Her use of personal experience was most helpful.
---
Stacy is the epitome of an incredible, caring instructor! She clearly cares about her students and their progress.