Course Details
Nosework isn't REALLY all about the nose... it's about the dog using all of their senses and problem solving the location of the hidden source material. When we train, it's so important to support the development of that decision making process. Every time you set a hide, you shape the dog's searching behaviors. By setting hides that help your dog to THINK, you create an engaged, efficient dog.
This course will include setups that will enhance HOW your dog problem solves in order to tighten your dog's skill set. This will take your training to the next level in addition to helping you break out of your own hide setting patterns!
Each week, we will cover 4 to 5 different setup examples created to enhance your dog's problem solving. The setups will include options for both upper level and lower level application so that you can tailor the assignment for your dog.
Excerpt from Class Intro:
In this class, we will be using setup arrangements to help build your dog's problem solving skills. So often I get asked for an "advanced skills class". Interestingly, advanced skills are just build-outs of your basic skills with a bit of extra problem solving. If we can get the dog really problem solving odor early on, and continue with developing problem solving skills throughout the dog's career, those "advanced" skills that you might utilize in Elite, Summit, or AKC Detective basically build themselves! You see... HIDES train the dog, we don't. In this class, I will be sharing example setups with you in a way that you can use them to INSPIRE your own searches.
Each week, I will give you 4 to 5 different setups with a short explanation about how to make the search a little simpler. I will be using my own dogs as demo dogs for the bulk of the setups. Where possible, I will show you multiple dogs and talk about the differences in how they solve the puzzle. Your dog might be similar or different... you will need to modify your setup to suit your own dog. The description on how to make the setup more straightforward can help with that decision making process. If your dog is newer to searching, I encourage you to start easier and then go from there.
The class will open with exercises to BUILD MOTIVATION. That becomes the core of the whole class. You will find that if you build motivation for source, and you set hides that challenge the dog suitably, that your dog will start to dig deep and problem solve. You see, building motivation and interest in the search increases ENGAGEMENT which is critical for the dog to learn.
You may not want to do all of the setups each week... It's totally ok to pick and choose! In fact, I recommend that! Choose the setups that will benefit YOUR DOG the most. And if you are short on time, pick and choose and you won't feel "left behind".
You may need to get creative with some of the setups. This is done on purpose. I will show you example setups but you will want to practice looking around at your search area to see how you can adapt (or if you need to pick a new area). Most of these setups are NOT meant to be "duplicated"... they are meant to be "inspiration".... By setting something on your own, you will start to learn how to set hide to encourage problem solving, beyond this class... and it will make you a better trainer!
Teaching Approach
This course will include one lecture per setup. The instruction will be written with short videos of example searches. The student may need to adapt the example to their own situation. Lecture videos may run from 1 to 4 minutes long, with the average between 1-2 minutes. The lectures are designed to help a student understand the purpose of the topic and how its application might vary by dog. Care is taken so that learners who learn by both watching and reading will be successful.
This class will have a Teaching Assistant (TA) available in the Facebook discussion group to help the bronze and silver students! Directions for joining can be found in the classsroom after you register.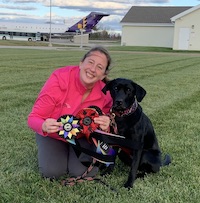 Instructor:
Stacy Barnett
Stacy Barnett is a top nosework competitor and trainer, being the first handler to title multiple dogs with multiple Summit Level titles in the National Association of Canine Scent Work (NACSW), (Judd SMTx3, Brava SMTx2). Stacy has been a faculty member at Fenzi Dog Sports Academy since 2015 (Click here for full bio and to view Stacy's upcoming courses)