Course Details
NOTE: This class WILL emphasize training needs resulting from the revised NACSW rulebook for 2020 inculding Blank Search Areas
Want to take your Nosework skills to the next level?
This is the fourth skill building course in our Nosework curriculum and will build on the skills acquired in our previous classes. This class is appropriate for any team wishing to polish the more advanced skills of Nosework. Although our curriculum starts dogs on odor using Operant Conditioning, the subsequent classes are suitable for teams regardless of how you train.
This class will take your NW2 and NW3 skills to the next level. We will challenge you with topics such as:
advanced containers, proofing for distractions and working with luggage
converging odor from multiple hides
accessible vs. inaccessible hides
how to assess if a hide is inaccessible and when to call alert
how to deal with inaccessible vehicle hides
setting up advanced scent puzzles and improving detailing skills
dealing with hide elevation
building search stamina
generalization, generalization, generalization
blank areas: Interiors, Exteriors, Vehicles and Containers!
Class Trailer:
Compilation of Student Videos from June 2015 Session:
Teaching Approach
This class will have a Teaching Assistant (TA) available in the Facebook discussion group to help the bronze and silver students! Directions for joining can be found in the classroom after you register.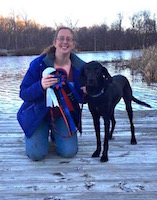 Instructor:
Stacy Barnett
Stacy Barnett (she/her) is a successful nosework competitor, being one of only a handful of teams titled through the Summit Level (SMT) in NACSW with her dog, Judd. In fact, she and Judd have earned THREE Summit titles (SMTx3)! Stacy is also an international clinician and AKC scent work judge. (Click here for full bio and to view Stacy's upcoming courses)