Course Details
Did you have fun in the first toy class? Did you and your dog learn some things? And now you want more?!
This advanced class takes the skills learned in Class FE130 - Toys: Building Cooperation and Play, and expands on them, exploring what each gold team, student and dog, needs. Whether it is adding behavior skills to the games, adding switching reinforcement concepts to the games so that you have fluency in reinforcement procedures, or making sure you've got structure and rules to those reinforcement procedures, this class covers it all!
Many students treat this class like a "handler's choice" toy skills class and go on their own path from the get-go. The most frequent topic is adding agility or obedience skills to the games, listening to the dog's "tells" and what to do about it all.
Lectures cover specific marker cues, teaching verbal cues over body language cues, switching reinforcement, (toy types and food) as well as including down-stay so that we can get some calm behaviors in among all the adrenaline skills.
Dogs and handlers in this class at the Gold and Silver level are expected to have taken the previous toy class and to have mastered most, if not all of the skills in that class. You will get the most out of this class if your dog already has an idea of how the chase and tug games work.
This class is not appropriate for dogs that do not have much toy drive or have not reached the stage of adding obedience to the tug and fetch games. Contact instructor if you have questions!
Teaching Approach
This class is more like a handler's choice so students are encouraged to work on their subject/concept of choice. Lectures will be released once a week, all at once, in that week's suggested topic but I won't hold students to the syllabus unless I think it will benefit what they are having challenges with. Lectures consist of written instruction, a series of steps and then more explicit written instruction and video examples of the steps. Videos are short and there is no voice-over or explanation in the video itself. This class needs both dogs and handlers to be able to move, to have the skills in the prerequisite toy class and to have the room, yard, training center to play those skills.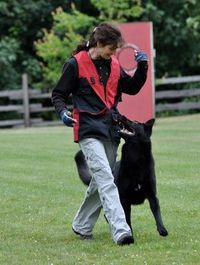 Instructor:
Shade Whitesel
Shade Whitesel (she/her) has been training and competing in dog sports since she was a kid. Always interested in how dogs learn, she has successfully competed in IPO/schutzhund, AKC obedience and French Ring. Her retired dog, Reiki vom Aegis, IPO 3, FH 1, French Ring 1, CDX, was 5th at the...(Click here for full bio and to view Shade's upcoming courses)