Course Details
Do you have a dog that chases the ball, yet won't bring it back? Plays keep away with toys? Tugs but won't let go? Bites you instead of the tug? Obsesses over toys, yet won't listen to a single thing you say? Is your dog so high in drive for toys that he can't think? Or do you just want to channel that prey drive right from the beginning and add the attitude your dog has for tugging or chasing toys to the obedience ring?
If so, this class is for you! Join Shade Whitesel as we explore how to play games that channel that prey drive. Playing with toys with OUR rules creates a dog that plays with us instead of against us! We are specifically intending the toy play to be used as a reinforcement for sport behaviors, which makes this class a wonderful foundation for most sports.
This class is most appropriate for dogs that are attracted to toys but need fine tuning in how to play with them. We include ways to build drive for toys but generally, dogs with little or no interest in chasing and biting toys will have limited success in this class. The tug part of this class can be quite physical on the handler, so wear gloves and expect to gain some bicep muscles!
This class will have a TA for the June term! The TA helps facilitate discussion among the bronze and silver spots and reviews some videos. To take advantage of the TA, you need to join the specific class FaceBook group.
Here a video showing a little of what we work on: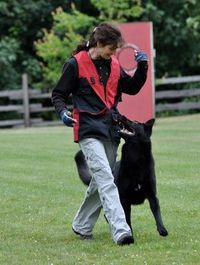 Instructor:
Shade Whitesel
Shade Whitesel has been training and competing in dog sports since she was a kid. Always interested in how dogs learn, she has successfully competed in IPO/schutzhund, AKC obedience and French Ring. Her retired dog, Reiki vom Aegis, IPO 3, FH 1, French Ring 1, CDX, was 5th at the