Course Details
Want to take your Nosework skills to the next level?
Moving up to NW2 and NW3 means new and more challenging skills. Hides at these levels start to get more complicated so it's essential to level up your training. If you want to hone those inaccessible hides, converging odor, and the challenging blank area, this class is for you!
This class will take your NW2 and NW3 skills to the next level. This class will also prepare your for AKC Excellent and Master level trialing. We will challenge you with topics such as:
advanced containers, proofing for distractions and working with luggage
converging odor from multiple hides
accessible vs. inaccessible hides
how to assess if a hide is inaccessible and when to call alert
how to deal with inaccessible vehicle hides
setting up advanced scent puzzles and improving detailing skills
dealing with hide elevation
building search stamina
generalization, generalization, generalization
blank areas: Interiors, Exteriors, Vehicles and Containers!
Class Trailer:
Teaching Approach
Each week you will receive several lectures released at the begining of the week. There will be theory based lectures as well as lectures and assignments on the current topic. Some searches can be done at home however the learner will be enouraged to also work outside of the home. This class offers extensive written lectures, no verbal lectures, and videos of varying lengths. It is rare that relevant speaking takes place within a video; they are designed to be watched in order to follow the ideas presented in the lecture. Lecture videos may run from 1 to 4 minutes long, with the average between 1-2 minutes. The lectures are designed to help a student understand the purpose of the topic and how its application might vary by dog. Care is taken so that learners who learn by both watching and reading will be successful.
This class will have a Teaching Assistant (TA) available in the Facebook discussion group to help the bronze and silver students! Directions for joining can be found in the classroom after you register.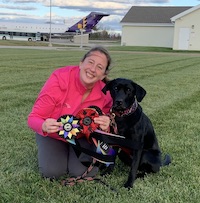 Instructor:
Stacy Barnett
Stacy Barnett is a top nosework competitor and trainer, being the first handler to title multiple dogs with multiple Summit Level titles in the National Association of Canine Scent Work (NACSW), (Judd SMTx3, Brava SMTx2). Stacy has been a faculty member at Fenzi Dog Sports Academy since 2015 (Click here for full bio and to view Stacy's upcoming courses)