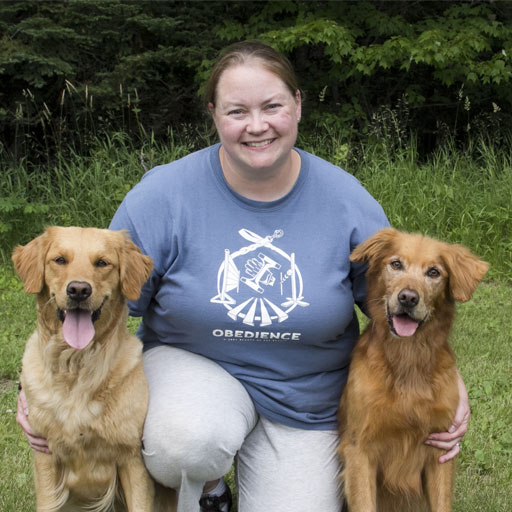 Nicole Wiebusch CPDT-KA (she/her) has been competing in dog sports for over 25 years. Starting in 4-H, Nicole quickly became addicted to the sport of obedience and has been showing in obedience, rally, and agility ever since. Her first golden retriever, Tucker CDX RAE MX MXJ, was her "crossover" dog, the one who taught her the value of positive reinforcement training.
Her second golden retriever, Toby, earned multiple high-level titles in obedience, rally, and agility. Toby earned a UDX2 and OM3 in obedience, and was retired just 30 points shy of finishing his OTCH (Obedience Trial Champion) due to physical reasons. Toby also earned an RAE in rally, and at two separate Golden Retriever National Specialties, won the very large Advanced Rally classes. Throughout his career, Toby won multiple High in Trial and High Combined awards. Toby passed away in 2021 at the amazing age of 15 years and 8 months. He taught Nicole to enjoy the journey and made her laugh every time she stepped foot into a ring.
Strive is Nicole's third golden and first female. She is in the Golden Retriever Club of America's (GRCA) Obedience Dog Hall of Fame for her High in Trial awards in obedience. She earned her RACH (Rally Championship) with numerous High Triples and High Combineds. Strive produced a fabulous litter whose accomplishments have earned her the title of Outstanding Dam through the GRCA. Strive is currently enjoying being trained and shown by Nicole's daughter in agility, rally, obedience, and 4-H.
And finally, Excel is Strive's son and Nicole's 4th golden retriever. Just starting on his performance career, Excel has earned his RE in Rally and is working on his RAE, Master, and RACH titles. Excel taught Nicole the importance of life skills, reward markers, and relaxation techniques.
Nicole started Golden Paws Dog Training LLC in 2008. She teaches both pet people and dog sports enthusiasts dog-friendly training methods. Nicole has been an instructor for FDSA since 2019, teaching rally, obedience, and foundation classes. She is also a TEAM judge and has earned both the Obedience/Rally/Freestyle Trainer's Certificate and the Sports Foundation Trainer's Certificate from FDSA. In addition, Nicole is a CPDT-KA, a Canine Good Citizen and Trick Dog evaluator, a Professional Member of the APDT, and the leader and trainer for the local 4-H Dog program.
Nicole resides in Northern Minnesota with her husband, three children, and multiple dogs and horses. Aside from dog training, she enjoys hiking, photography, and spending time with her horses.
Nicole's website can be found at www.goldenpawsdogtraining.com and she can be contacted at nicole@goldenpawsdogtraining.com.
Pronouns: Nicole goes by she/her.
Having a dog that's focused on you is essential not only in dog sports, but in life. Sometimes it's hard to keep our dogs' attention, though! In this class, you'll...
December 1, 2023
Are you a little intimidated by the master signs, with all those spins, sends, and signals? Don't be! The rally master class is a blast for you and your dog. ...
December 1, 2023
Does your dog frequently experience feelings of FOMO (Fear of Missing Out) or frustration at the thought of being left out of all things fun? Whether those feelings come...
February 1, 2024
Welcome to the exciting world of Rally! In this course, we will guide you through the essential skills required for each Novice sign. From sits and downs to fronts, finishes, ...
February 1, 2024
Is your dog easily distracted by squirrels, food on the ground, people, or other dogs? Do you wish to have your dog's behaviors consistently reliable in various locati...
April 1, 2024
Your dog has great rally skills in your living room, but now you're not sure what to do next! How do you progress toward your goals? What's involved in going f...
April 1, 2024
Does the thought of teaching heeling leave you feeling overwhelmed? Not sure where to start? Maybe your dog is stuck on the bowl? This class will get you off the bowl...
June 1, 2024
You love playing rally with your dog, but sometimes you wish your scores were just a bit higher. Imagine being able to increase your rally scores simply by incorporating...
June 1, 2024
Training Videos on Demand
Get Your Dog to Stop Jumping on People Imagine having a dog that doesn't jump on people. When you have guests over, you can let the dog say hi knowing th...
Nicole Wiebusch
(Faculty)
Sit, Down, Stay Wouldn't it be nice if you could tell your dog to lie down when the doorbell rings and know your dog will stay there while you grab the b...
Nicole Wiebusch
(Faculty)
Self Study Classes - lectures available for purchase
This self study course contains all of the Novice/Level One signs from AKC, ASCA, UKC, and WCRL Rally. It also contains all of the Advanced and Excellent signs from AKC ...
Nicole Wiebusch
(Faculty)
Dog Training for Kids 101 Do you have a child (or know one) who loves dogs? Is your child always begging to "train" the dog? Would you like to foster a h...
Nicole Wiebusch
(Faculty)
Have a question about an upcoming course taught by Nicole? Not sure if your dog is suitable for a specific class? We welcome you to contact instructors by email to make sure the course is suitable for you and your dog.
Nicole has put together awesome video demos for each rally exercise. They are all really clear on how to perform the sign, and include helpful tips on potential problems. She also gives great feedback on how to improve and/or work through issues that the team is having. This is definitely a course that I will refer back to many times!
---
Nicole is an awesome teacher! Love her teaching style and her ability to work with each handler/dog team where they are at. The lectures are well written, informative, and a great learning resource. Thanks for a great class, Nicole! If you are considering taking this class with Nicole, do it! The material is really great, her instruction is excellent, and her feedback is very helpful. I learned a ton and had a lot of fun with my dog doing it.
---
Outstanding course to help learn the Rally Advanced and Rally Excellent exercises. Great videos to show correct execution of exercise with added tips and explanation of building blocks needed to be successful. Instructor has good constructive comments on students videos and always encouraging. Well worth the cost and time.
---
Please let Nicole know that I've REALLY enjoyed her Rally series. I have taken all of her courses, thus far, and I will be taking the next one that starts on Dec. 1 at bronze. I hope the series continues and that she plans to do an advancing to masters eventually!
---
Nicole is an awesome instructor! She always says something positive, which is so motivating! She has a great eye for finding what is going wrong and is very clear describing step by step solutions. I very much appreciated all the supplemental videos she added to clarify topics. Wonderful class!
---
Nicole, I love your teaching style and the effort you put in to help each team be successful. Your lectures were informative, well written, and easy to follow. Looking forward to taking more classes with you. Thank you for such an awesome class!
---
Nicole is an excellent intructor. I have taken many Fenzi classes so I think I am in a postion to judge quality instruction and feedback. Nicole is a keeper.
---
Thank you, Nicole! Your feedback always was on target, helpful, and positive, and your lectures and supplementary materials were excellent.