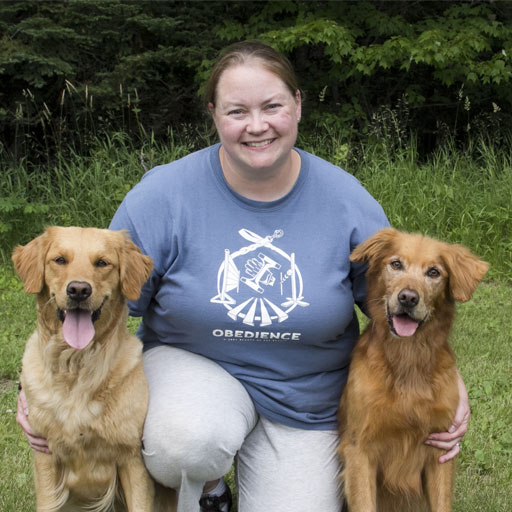 Nicole Wiebusch (she/her) started competing in dog sports as a teenager and quickly became addicted to the sport of obedience. In 2001, she acquired a golden retriever named Tucker who taught her that traditional methods weren't the best way to a happy confident dog. This realization started her on the journey to positive reinforcement training. In 2008, Nicole started her own dog training business, Golden Paws Dog Training LLC, and teaches both pet owners and dog sports people dog-friendly training methods. She started taking classes with Fenzi Dog Sports Academy in 2013 and actively competes in a variety of performance events with her three golden retrievers. Nicole's golden retriever Toby UDX2 OM3 RAE was retired due to physical problems just 30 points shy of finishing his OTCH, earning multiple High in Trials and High Combineds. Toby won the Advanced Rally class at the Golden Retriever National Specialty in both 2012 and 2015. Nicole's current competition dog Strive has earned her UD and is working on her UDX, as well as competing in Rally and earning points for their RACH. In a limited number of trials, Strive has earned 4 High in Trials and 1 High Combined in Obedience, plus numerous High Combineds and High Triples in Rally. Both Toby and Strive have earned agility and dock diving titles, and Strive is titled in both hunting and TEAM. Excel is Nicole's up and coming dog and he is featured in many of the videos for Nicole's classes at FDSA. Excel has dock diving titles and his TEAM1 title, and will soon be playing in the rally, obedience, and agility rings.
In addition to operating Golden Paws Dog Training, Nicole is an instructor for FDSA and the Pet Professionals Program and a TEAM judge. She has earned both the Obedience/Rally/Freestyle Trainer's Certificate and the Sports Foundation Trainer's Certificate from FDSA. She is also a Canine Good Citizen and Trick Dog evaluator, a Professional Member of the APDT, and is a field dog trainer for a service dog organization.
Pronouns: Nicole goes by she/her.
If you find teaching movement-oriented behaviors easy but "the absence of behavior" (stays!) hard - then this class is for you! Whether your dog is just learning stays o...
February 1, 2022
You love playing rally with your dog, but sometimes you wish your scores were just a bit higher. Imagine being able to increase your rally scores simply by incorporating...
February 1, 2022
Are fronts and finishes essential to your sport? Do you have a young pup who needs to learn these important skills, or an already-trained dog who could use a refresher?&...
April 1, 2022
Welcome to the world of Rally! In this course we will break down and teach the skills for each Novice sign, including halts and sits, fronts, finishes, turns, short...
April 1, 2022
This class will cover stationary and moving position changes needed for the sports of rally and obedience, both in heel, stationary (at a distance), and moving. We will ...
June 1, 2022
Are you a little intimidated by the master signs, with all those spins, sends, and signals? Don't be! The rally master class is a blast for you and your dog. ...
June 1, 2022
What's your dog's kryptonite? Squirrels? Food on the ground? People? Other dogs? This class is all about getting the behaviors that you h...
August 1, 2022
Once you get into the Rally ring, most teams move through the Novice level fairly quickly. Be prepared for move ups with this class on Advanced and Excellent signs! We w...
August 1, 2022
Training Videos on Demand
Get Your Dog to Stop Jumping on People Imagine having a dog that doesn't jump on people. When you have guests over, you can let the dog say hi knowing th...
Nicole Wiebusch
(Faculty)
Sit, Down, Stay Wouldn't it be nice if you could tell your dog to lie down when the doorbell rings and know your dog will stay there while you grab the b...
Nicole Wiebusch
(Faculty)
Have a question about an upcoming course taught by Nicole? Not sure if your dog is suitable for a specific class? We welcome you to contact instructors by email to make sure the course is suitable for you and your dog.
Nicole has put together awesome video demos for each rally exercise. They are all really clear on how to perform the sign, and include helpful tips on potential problems. She also gives great feedback on how to improve and/or work through issues that the team is having. This is definitely a course that I will refer back to many times!
---
Nicole is an awesome teacher! Love her teaching style and her ability to work with each handler/dog team where they are at. The lectures are well written, informative, and a great learning resource. Thanks for a great class, Nicole! If you are considering taking this class with Nicole, do it! The material is really great, her instruction is excellent, and her feedback is very helpful. I learned a ton and had a lot of fun with my dog doing it.
---
Outstanding course to help learn the Rally Advanced and Rally Excellent exercises. Great videos to show correct execution of exercise with added tips and explanation of building blocks needed to be successful. Instructor has good constructive comments on students videos and always encouraging. Well worth the cost and time.
---
Please let Nicole know that I've REALLY enjoyed her Rally series. I have taken all of her courses, thus far, and I will be taking the next one that starts on Dec. 1 at bronze. I hope the series continues and that she plans to do an advancing to masters eventually!
---
Nicole is an awesome instructor! She always says something positive, which is so motivating! She has a great eye for finding what is going wrong and is very clear describing step by step solutions. I very much appreciated all the supplemental videos she added to clarify topics. Wonderful class!
---
Nicole, I love your teaching style and the effort you put in to help each team be successful. Your lectures were informative, well written, and easy to follow. Looking forward to taking more classes with you. Thank you for such an awesome class!
---
Nicole is an excellent intructor. I have taken many Fenzi classes so I think I am in a postion to judge quality instruction and feedback. Nicole is a keeper.
---
Thank you, Nicole! Your feedback always was on target, helpful, and positive, and your lectures and supplementary materials were excellent.