Course Details
If you feel overwhelmed when you think about teaching your dog to heel or you simply don't know where to start, this is the class for you. Instead of obsessing about every little detail (also a wonderful path for those that want that!), this class will offer a simple yet effective way to teach practical heeling. We will start with the pivot bowl and establish value for being in heel. Next we'll fade the props and you'll be left with awesome rear end movement. Finally we'll get moving! Throughout the class we'll use a combination of luring and shaping to get your heeling kick-started and moving forward in 6 weeks! Whether you're brand new to heeling, can't get off the pivot bowl, or aren't sure how to progress to moving forward, this class will help you get to that next step. If you want to get out in the ring but heeling is holding you back, the answer is right here! Join us today to go from pivots to practical heeling!
Trailer for this class:
Teaching Approach
Lectures will be released weekly on the first day of each week. Each lecture contains written information with short videos to demonstrate. Videos do not include captions or voiceovers. This class would work best with students that do well with written out instructions with video examples of each step and prefer a systematic approach to training. I will provide written feedback with video examples if necessary.
This class will have a Teacher's Assistant (TA) available in the Facebook study group to help the Bronze and Silver students! Directions for joining will be in the classroom after you register.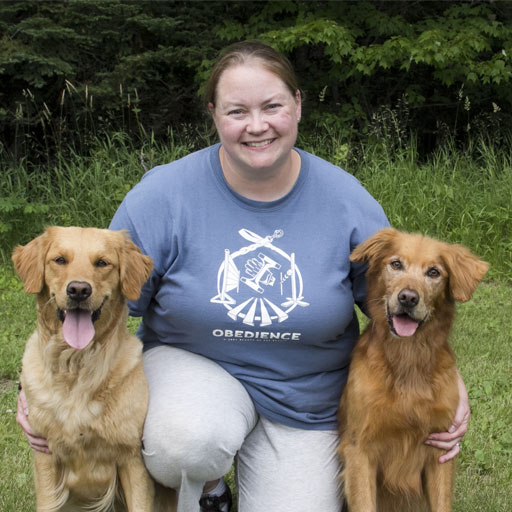 Instructor:
Nicole Wiebusch
Nicole Wiebusch CPDT-KA (she/her) has been competing in dog sports for over 25 years. Starting in 4-H, Nicole quickly became addicted to the sport of obedience and has been showing in obedience, rally, and agility ever since. (Click here for full bio and to view Nicole's upcoming courses)