Course Details
Welcome to the world of Rally! In this course we will break down and teach the skills for each Novice sign, including halts and sits, fronts, finishes, turns, short heeling segments, and more! During the course, we will discuss the mechanics of teaching these skills, how placement of reward can help with your dog's accurate performance of obedience skills, and how using props can assist with your dog's understanding of the positions. By the end of the course, you will have the knowledge to teach all the skills needed for the 40 AKC Rally Novice signs, but don't get overwhelmed! Many of the signs are very similar and build on each other. We will break down each set of skills into manageable chunks so you and your dog can be successful!
For those of you working through either of the TEAM programs, obedience or rally, or who want to work on your obedience foundation, Rally is the perfect game to play with your dog, and is especially good if you're thinking about entering the competition ring for the first time.
The AKC rally skills can be broken down into following categories: short heeling segments, halts, turns, positions (sit, down, stand), fronts, finishes, pace changes, and short stays. Students are not expected to master all of these skills, but will be provided the resources for teaching all of these categories. Each week several skills will be released and students will have the option of working on any skills from the current week or previous weeks.
Get Ready to Rally! is an introductory class. Dogs will be expected to have a basic understanding of sit and down, but these skills do not need to be refined. Please note that this class will not cover how to execute the specific signs, but will give you and your dog a solid foundation in the skills needed to complete each sign. There is a self-study class that covers how to do perform each rally sign, along with video demos and helpful tips. The course can be found at the following link: https://www.fenzidogsportsacademy.com/index.php/courses/34261
If you'd like to see what Rally is all about, check out a recent show with Strive.
Here is the trailer for this class.
Teaching Approach
Lectures will be released on the first day of each week. Lectures contain written instruction with demonstration videos of each skill. The vast majority of the time, videos do not need to be heard. For the rare occasion that there is relevant speaking in the video, the lectures will clearly outline everything that is being said. Most videos are in between 20 seconds and 2 minutes. Homework is outlined at the end of each lecture. Supplemental lectures and videos will be posted as needed. This class will work best for students who prefer reading written step-by-step material accompanied by short videos for demonstration.
This class will have a Teacher's Assistant (TA) available in the Facebook study group to help the Bronze and Silver students! Directions for joining will be in the classroom after you register.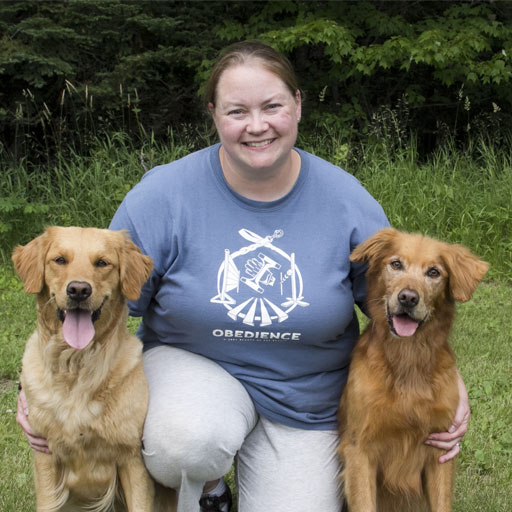 Instructor:
Nicole Wiebusch
Nicole Wiebusch CPDT-KA (she/her) has been competing in dog sports for over 25 years. Starting in 4-H, Nicole quickly became addicted to the sport of obedience and has been showing in obedience, rally, and agility ever since. (Click here for full bio and to view Nicole's upcoming courses)