Course Details
You love playing rally with your dog, but sometimes you wish your scores were just a bit higher. Imagine being able to increase your rally scores simply by incorporating some minor changes. Did you know that the majority of points are lost due to handler errors?
Whether your scores are in the 90's or the 70's, you'll find this class helpful! Any experience level is welcome; teams just need the basic rally skills.
I've polled dozens of judges and experienced exhibitors and have complied a list of the most common reasons dogs lose points in rally.
Some are simple to fix, like knowing how to do the signs! I'm going to set up an optional short handling challenge each week so that you can practice really knowing the signs. We'll also discuss how to remember all of those pesky details of each sign, as well as remembering courses.
Some errors can be reduced by doing some dog training, so we'll work on that aspect also! Are your fronts a little crooked? Perhaps your heeling isn't quite up to par. Are you really struggling with those master spins? We'll work on those, and many more. In fact, Gold spots can get individualized help with any rally-related skill! In many ways this class is the best combination between a class with lecture material and a handler's choice class!
There will also be lectures on each of the American Kennel Club (AKC) virtual Novice and Intermediate Rally courses. We'll discuss tricky areas and tips, and if you want to set them up, you can video for my feedback before you submit to the AKC. If you follow the guidelines for videoing set forth by the AKC, you can even submit that video to the AKC for judging! You may also show me virtual runs from advanced and excellent and have me review them before you submit to AKC.
If you're just starting out in Rally, get ahead of the game by learning all these tips before you even start competing! Regardless of where you are in your rally journey, this class will help you increase your scores!
Teaching Approach
This is a skill-based class. Lectures are released once weekly. Each week there will be a variety of short lectures which contain tips on preventing common errors and training better behaviors. There will be lots of video examples. Most videos are short but some may be up to a couple minutes. The videos do not require the ability to hear them in order to understand what's going on. This class will systematically cover the most common reasons that points are lost in rally and what to do about it.
This class will have a Teaching Assistant (TA) available in the Facebook study group to help the bronze and silver students! Directions for joining will be in the classroom after you register.
View the trailer for this class!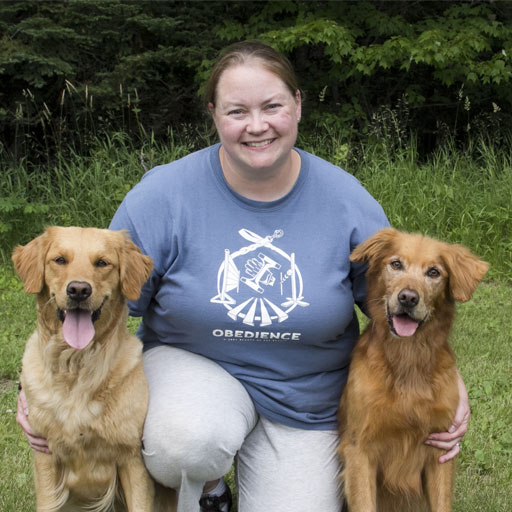 Instructor:
Nicole Wiebusch
Nicole Wiebusch CPDT-KA (she/her) has been competing in dog sports for over 25 years. Starting in 4-H, Nicole quickly became addicted to the sport of obedience and has been showing in obedience, rally, and agility ever since. (Click here for full bio and to view Nicole's upcoming courses)