Course Details
How to Train Your Dog to Come AND
Sit, Down, Stay : Basic Obedience for the Pet Dog AND
Get Your Dog to Stop Jumping On People: Teaching Polite Greetings AND
Dog on the Go: Take Your Public Pooch Out and About AND
Stop Leash Pulling: Multiple Methods to Loose Leash Walking AND
Cooperative Care: How to Prepare Your Dog for Visits to the Vet & Groomer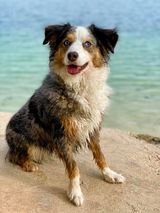 ---
Chrissi Schranz - How to Train Your Dog to Come: Reliable Recalls
Coming when called may well be the most important behavior your dog will ever learn: it'll keep your dog safe when she gets loose, it makes your life easier around the house and yard, and it'll allow you to give your dog greater freedom on walks, hikes, and at the dog park.
Chrissi will walk you through 6 training steps:
1. Choosing a "come" cue
2. Making it worth your dog's while
3. Paying for the behavior of coming
4. Making training fun
5. Taking the training games on the road
6. Transitioning from training to real life recalls
Each training step comes with an explanation about why it matters, and how it works. Chrissi will point out parallels in how dogs and humans learn, making her methods intuitive and accessible to the trainer. Since no two dogs are exactly alike, you will be asked to think about your dog's unique preferences and distractions throughout the webinar, ensuring that the rewards you use are tailored to the dog in front of you.
Four kinds of learning are woven into the practical training steps:
1. Understanding the meaning of sounds
2. Learning through behavior and consequence
3. Consistency, repetition, and generalization
4. Social and emotional learning
Elements of emotional learning strengthens the dog/human relationship with each training step. Practical training games are fast-paced, short, and fun, and lend themselves to be played by adults as well as children. Each interactive recall game is illustrated by a video to make sure you'll be able to replicate it with your dog.
Starting easy before making things difficult ensures your dog gets a strong recall foundation: you'll start training in your house, with no distractions present, before progressing to your yard, and finally to public spaces. Chrissi's recall ladder will help you think through what's easy and difficult for your dog before taking the leap from structured sessions to real-life recalls.
---
Nicole Wiebusch - Sit, Down, Stay: Basic Obedience for the Pet Dog
Wouldn't it be nice if you could tell your dog to lie down when the doorbell rings and know your dog will stay there while you grab the box from the UPS man? Or when you're out walking and three dogs are dragging a disgruntled owner your way, you can step off the sidewalk and tell your dog to sit as you both calmly watch the dogs pass before you continue on your relaxing walk?
Instead, you find yourself desperately trying to hold the dog back as you answer the door. You feel your heart rate go up as you see those dogs coming toward you, knowing that your dog is going to lunge toward them to go say hi. You just don't think your dog will ever understand how to sit or down and stay there!
Fortunately, with a little bit of thoughtful training, you CAN teach your dog to sit, down, and stay! This step by step training plan will show you exactly how to teach these behaviors to your dog. You will learn how to train your dog to listen to your cues in a variety of situations. You will be taught how to effectively add distractions and increase your dog's understanding and how to introduce duration in those positions and teach a basic stay on a dog bed or platform. Finally, you will learn how to reduce the treats and incorporate other reinforcers.
---
Nicole Wiebusch - Get Your Dog to Stop Jumping On People: Teaching Polite Greetings
Imagine having a dog that doesn't jump on people. When you have guests over, you can let the dog say hi knowing that he or she won't knock over your mom, or lick the little kids' faces, or leave muddy paw prints on your friend's beautiful ivory dress. When you stop to say hello to a neighbor while on your walk, your dog sits calmly as you chat.
Unfortunately, your reality looks a little different. You don't even let people come to your house any more because your dog jumps so much and you are embarrassed. You cross the street in order to avoid other people on your walks. And when you come home from work, you feel anxious walking in the door just knowing that you will spend the next 10 minutes yelling at the dog to "get down! No!"
Thankfully, a little training can go a long way in teaching your dog not to jump! In this video, you will learn why your dog jumps on you and what to do about it. You'll be taught how to teach alternative behaviors and how to reduce your dog's arousal level, making jumping less likely. By the end of this video, you will have gained the understanding to dramatically reduce jumping for your dog.
---
Sara Brueske - Dog on The Go: Take Your Public Pooch Out and About
One of the greatest joys of owning a dog is involving that dog in your everyday life. A well-behaved dog can become the perfect partner for hiking, walks around town and trips to dog-friendly restaurants and shops. The dogs that are involved in these type of activities are less likely to develop problem behaviors at home as well as these outings will provide mental stimulation as well as physical exercise.
Most dogs need a bit of help to become good citizens in our communities. There's nothing more embarrassing than bringing your dog to the cafe just to have them lunge at every person or dog that passes by or steal food off of your neighbor's table. It is our job to teach them what they need to know in order to not be a nuisance in public spaces as well as an easy partner to amplify the enjoyment of these activities.
This course will discuss what makes a dog a good candidate to bring into public spaces, the signs to watch for that let you know your dog is comfortable, proper doggy etiquette as well as how to train behaviors that will help make your dog a public-setting expert. The behaviors we will cover in this course are designed for all sorts of different public outings from outdoor dining, to walks around town and even watching your kid's soccer match.
These behaviors include the benefits of "passive socialization", teaching your dog when to say "hi" and when to ignore, loose leash walking, settle under the table and "leave it".
This course is suitable for dogs of all ages, it's never too early or too late to start learning public manners! We will not be discussing aggressive or reactive dogs in this course. "
---
Heather Lawson - Stop Leash Pulling: Multiple Methods to Loose Leash Walking
Multiple Methods For Loose Leash Walking! Just as there are a multitude of great cookies recipes so are there many ways to teach and our dogs not to pull on the leash. Unfortunately, not one single way works for all dogs and many of the methods used can be quite dog unfriendly. Especially so because they don't always address the preparation work that needs to be put in before you actually venture out. Nor do they take note that there are many different types of Loose Leash Walking and just how hard it is for our dogs to walk with us.
In this presentation, we'll take a quick and brief look at the 3 basic types of LOOSE LEASH WALKING. Yes, there are 3 types, and how important it is for us humans to be consistent in the rule of NO PULLING NO WHERE NO HOW at all times but still give our dogs the opportunity to explore their world.
We then move to the preparation basics of teaching your pup where it pays off to be when walking with you through Off-Leash training around your home and yard. Within preparation work we consider how to make sure you're setting yourselves and your pups up for a pleasant walk and training session by expressing any energy through Get The YA YA's OUT games before you head out - how expecting calm and quiet at each transition point helps for the walk ahead. You'll see how teaching a GO SNIFF cue can be a good way to let your pup have a break from training and that sniffing can actually be used as a reward. On top of the preparation work there is also a brief look at the equipment that I've found beneficial for training – thinking harnesses, leashes and treat pouch.
From equipment and transitions we move into discussing and taking a look 4 of the most Dog and Human friendly as well as successful methods I've used for teaching your pup how to walk on a loose leash. There is a brief description and then you get to see the methods in action; where we reward our pups (close by our leg), how to reset your pup back into position beside you without jerking and how to hold your leashes at your home base (waist) so you can easily reward with the hand closest to your dog. Each of the methods are fun, easy to do and best of all Dog Friendly.
---
Deb Jones - Cooperative Care: How to Prepare Your Dog for Visits to the Vet & Groomer
Does your dog resist getting his nails trimmed? How does he feel about going to the vet's office? Imagine how much easier it would be to have a dog who was comfortable and relaxed with basic grooming and vet care.
We use the term cooperative care to refer to all the handling and training that we do to improve our dog's health and well-being. Things like grooming and veterinary care fall into this category. It is also sometimes referred to as husbandry. Cooperative care procedures are going to be necessary throughout your dog's entire lifetime, so it can really pay off to practice making them as pleasant and comfortable as possible. Not only will this benefit your dog, but it also benefits you, your veterinary team, and your groomer. When a dog is easy to handle and manage, everyone can relax and physical care is a much more pleasant event.
Many dogs are fairly easy going about physical handling and procedures. But others are not. They may be nervous, anxious, and afraid. They may become uncomfortable and defensive. This can lead to a spiral of increasing amounts of force and pressure to get procedures done, and the dog responds with even more resistance. This is a negative spiral that we really want to avoid! Planning ahead and doing some proactive cooperative care can make a huge difference! It's one of the best things you can do for your dog's comfort and well being.
In this presentation we will lead you through some of the most common grooming and veterinary procedures, and give you step by step instructions on introducing them and working to improve your dog's attitude and skills. For common at home procedures we will discuss and demonstrate approaches to brushing, shortening nails, and taking pills.
For common procedures at the veterinary clinic we will give you ideas to practice mild restraint and physical examinations. We want to make these neutral events so that your dog relaxes and allows them without concern. In addition, we will talk about and demonstrate ways to introduce your dog to wearing a muzzle. All dogs, even the most easy going ones, might snap or bite if afraid or in pain. A muzzle is good insurance to keep everyone involved safe. If your dog has been introduced to wearing a muzzle and views it as a positive event that can make possibly painful or stressful events so much easier.
Join us to learn more about how you can make your dog's day to day life and necessary physical care a much more pleasant event.
---
Watch the Video Trailer with Sample Clips from All Presentations:
---