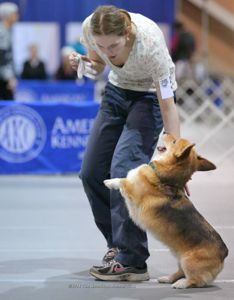 Laura Waudby trains and competes in obedience, rally, agility, and dabbles in disc dog and trick training. She was halfway to her OTCH with her UDX corgi, Lance, before his early retirement. She also has championship titles in USDAA and UKI. By day, Laura is a service dog trainer who prepares dogs for 5 different types of service dog work: diabetic alert, hearing alert, mobility assistance, autism assistance and seizure response.
Due to the special behavior needs of her duck tolling retriever, Vito, Laura has developed a strong interest in learning how to create motivation and confidence in dogs that struggle, either through genetics or through less than ideal training, to make it into the competition ring. Laura is excited to bring her insight and talents to the Fenzi Academy team!
Laura's personal website is Tandem Dog Sports
Have a question about an upcoming course taught by Laura? Not sure if your dog is suitable for a specific class? We welcome you to contact instructors by email to make sure the course is suitable for you and your dog.
I'd recommend this course to anyone who is struggling with their confidence in the ring. The exercises and video clips are pitched just right and make so much sense. You feel the instructor has genuinely dealt with these issues herself which is a huge help. You will be inspired! Clare W.
---
Laura is awesome! Which is why I have taken multiple courses with her. She is so perceptive, and generous in her feedback. I also like that she is so unpretentious, and she is also active in competition; someone who doesn't talk the talk but really walks the walk
---
Laura was great! She was always encouraging and supportive but at the same time able to provide constructive critiism. Loved her calm, practical attitude and her willingness to talk about some of the struggles she has with her own dogs.
---
FDSA is very lucky to have Laura. this is the second class i've taken with her - she is a gifted instructor and I look forward to future classes with her!
---
Laura provides a step-by-step method for scent discrimination that is guaranteed to be successful, even for the most sensitive dog. She is quick to understand the nuances of each team and provide individualized instruction. It's all about keeping it fun and improving the dog's confidence. Wonderful course - I was thrilled with the progress we made in six weeks. ~ Jill Stoller
---
This was an outstanding class to learn articles if you had never started or fix a problem if you'd already started. Laura is a talented instructor with a depth of knowledge to guide the dog and handler to success. The course was tailored so that we have good guidance on how to continue progressing after the session is over. I wouldn't hesitate to take another class from Laura. Deb A.
---
This was a great class. Laura had great knowledge and read the dogs very well. Her suggestions were spot on to keep the dog and handler on the right track to success.
---
Laura, I signed up for this class last minute, and almost on a whim. I am *so* glad I did! Kiyo & I both learned a lot & our confidence levels also increased. You are patient, thorough, detailed and kind. Looking forward to taking more classes with you. Nancy Almann
---
Thankyou very much for the opportunity to learn and break through some walls with our training. Laura is wonderful.