Course Details
This class will teach you how to take your TEAM foundations skills in levels 1 & 2 and use those to create the formal chains used in trials. We will be looking specifically at the exercises at the novice level in most organizations and will also touch on the ring preparation skills that you didn't know you needed to train for!
You don't need to be close to trialing to take this class! In fact I highly recommend taking this very early on in your dog's training career! But if you're already trialing, you'll get lots of good support for improving your trial experience.
It is designed for a wide range of students:
Do you feel lost in knowing how to progress from small individual behaviors to actually prepping for a trial?
Do you want to make sure that your dog has the skills needed and the trial prep in place for the future?
Did you already enter a novice or beginner novice trial but it didn't go quite as planned?
This class is also not a "heeling" class but it goes heavily into how to progress heeling from pivots to actual heeling! And it breaks down the skills for straight halts, tight turns, and speed changes!
(Note: this class is a modified version of my retired "Novice Smart" class. Students who have taken that class are welcome to join us for continued work, but the "heart" of the material covers the same topics.)
You do not need to have taken the TEAM 1 or 2 classes, but please look at the prereqs if you want to join as gold.
Teaching Approach
Lectures are released at the start of each week. The lectures are broken down by each skill, often in multiple parts. I have written objectives and then written instructions for each step followed by multiple video examples for each step. The videos are usually between 30sec to 2min long and are taken from training sessions of a variety of dogs. I rarely use voiceover in videos, but if it is added I have added/edited subtitles. At the end of each lecture is an overview summary with the steps quickly listed in order. Teams are not expected to complete all the lectures each week, especially if newer to putting the skills together.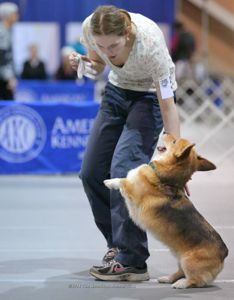 Instructor:
Laura Waudby
Laura Waudby (she/her) trains and competes in obedience, rally, and agility. She was halfway to her OTCH with her UDX corgi, Lance, before his uexpected early retirement. She also has championship titles in USDAA and UKI. By day...(Click here for full bio and to view Laura's upcoming courses)