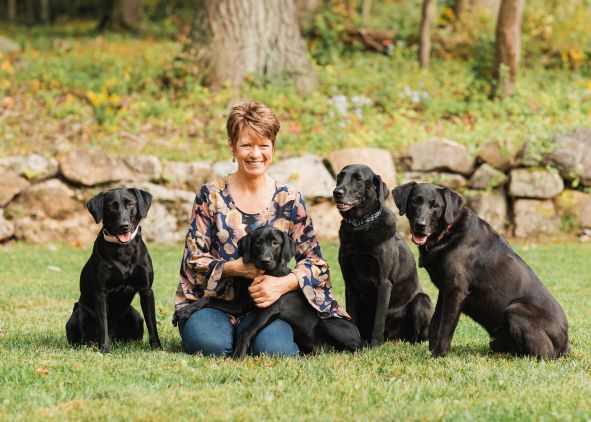 Petra (she/her) graduated from Rutgers School of Health-Related Professions 25 years ago with a degree in physical therapy and has experience working with an extremely varied caseload including pediatric through geriatric clients with a vast range of diagnoses. Her areas of expertise included in-patient rehabilitation, orthopedics and neurology. Petra attended the Canine Rehabilitation Institute in 2007 and is a certified Canine Rehabilitation Therapist. Petra raced bicycles at the professional level and participated in international events. She is now an avid runner, practices yoga and meditates daily. Petra trains and trials her Labrador Retrievers in obedience, agility and field. Her black Labrador Retriever, Tyler, has the distinction of being the 2008 and 2009 National Obedience Champion and First Runner Up in 2010. In 2012, Petra and Tyler became the first American team to win the Obedience World Cup (they placed second in 2010). Petra's dogs have earned field titles (MH, QAA). She competed in Masters with Zaidan, who is now retired. She is currently competing in obedience with Zeal. Zeal is the winner of multiple Regional Qualifiers, won the 2018 Obedience Classic and has earned 10 Perfect 200 scores. Following in his father's pawsteps, Zeal is the 2020 National Obedience Champion. Zayna won the Novice Division at the 2019 Obedience Classic, placed second (to Zeal) at her first Regional and recently finished her OTCH. Zesty is the newest family member. He is quite the clown! He loves dressing up and learning new tricks. He is becoming quite social media star. He is also training for competition obedience. Petra has written several articles on canine conditioning, canine injury prevention, competing with your dog and more. She has been published in a number of magazines including Clean Run, Front and Finish, and Whole Dog Journal.
Pronouns: Petra goes by she/her.
Many people don't understand the importance of conditioning until their dog has suffered an injury. They feel that participating in dog sports IS conditioning.&nbsp...
December 1, 2023
Great heeling is a pleasure to watch. Dog and handler moving together as one. The dog is happy, animated, joyful and confident. Heeling is a dance that should express jo...
December 1, 2023
Understanding and managing your dog's drive state/arousal level is a critical component of training and trialing successfully. It is very difficult and uncomfortable for...
February 1, 2024
Heeling requires significant concentration and sustained focus to maintain position, focal point and engagement. Heeling is easily the most difficult obedience exercise....
February 1, 2024
Open Obedience Foundation Fun! It's time to move away from thinking of obedience as serious. An open run is really just a long chain of pet tricks! Breaking the exercis...
April 1, 2024
How do I get the same performance in training and in the ring? That is one of the most common challenges in competitive sports. It is something everyone struggles ...
April 1, 2024
Have a question about an upcoming course taught by Petra? Not sure if your dog is suitable for a specific class? We welcome you to contact instructors by email to make sure the course is suitable for you and your dog.