Course Details
Most dogs are not innately confident. Especially when it comes to obedience. A sport that is not inherently self-reinforcing. A sport where dogs must learn to perform complex behaviors under a lot of pressure. In this course we will explore what we can do to improve our dog's overall confidence and confidence in the ring. This starts with clear, consistent communication. We must learn how to read our dog's most subtle cues in real time and adjust our response. We must understand our dog's learning style and structure our teaching accordingly. We will look at how to create a training session where the dog has a high success rate while using a small ratio of errors to create resilience. We will play fun games with our dogs that empower them and teach them that they can overcome challenges. We will be working on YOUR confidence as well! We've all watched our dogs make mistakes and had no idea how to help them. Once you can read and understand your dog and their learning style, you will develop the skills to support them.
In this course we will be focusing primarily on smaller behaviors to build a strong foundation of confidence. If your dog is more advanced, we can work towards more complex behavior chains. Our focus in this course will be on building overall confidence, more than on actual behaviors or exercises. This course is beneficial for puppies through seasoned adults. Some work will be done at home or where you typically train. Other work requires novel locations with varying amounts of distraction (for example, parking lots, parks, outside strip malls, etc.).
Teaching Approach
This class will have written and video lectures each week. Each lecture will be broken down into small pieces. There will be video examples demonstrating all exercises. Because everyone has their own learning style, I encourage students to move at their own pace. I understand that each dog and handler are unique and will do my best to accommodate their needs. Students will need to move around with their dogs as needed to work on the exercises/behaviors they choose to target in this class. It is highly encouraged for students to bring their dogs to different environments throughout the class. A few of the games will require quick physical movement from the trainer for short periods and distances.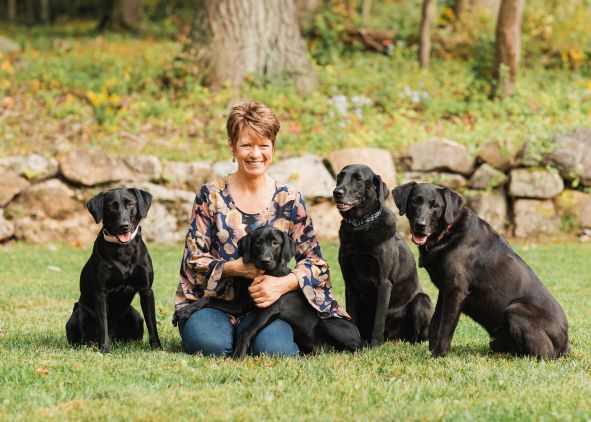 Instructor:
Petra Ford
Petra (she/her) graduated from Rutgers School of Health Related Professions 17 years ago with a degree in physical therapy and has experience working with an extremely varied caseload including pediatric through geriatric clients with a vast range of diagnoses. Her areas of expertise included in-patient rehabilitation, orthopedics and neurology. (Click here for full bio and to view Petra's upcoming courses)