Course Details
Understanding and managing your dog's drive state/arousal level is a critical component of training and trialing successfully. It is very difficult and uncomfortable for a dog to learn and compete in a state of arousal that is too high or too low. We will start this class by learning how to recognize your dog's various drive states and how your dog moves between them. With practice, you can learn to quickly recognize subtle signs that indicate your dog's mental and emotional state.
We will look at techniques that bring your dog's drive state up, as well as down. We will put those techniques on cue and teach them to your dog. The end result is the ability to read your dog's mental state and adjust it up or down as needed, immediately and on cue! This is an incredible tool that will greatly benefit your dog when training and trialing.
Teaching Approach
This class will have written and video lectures each week. There will be video examples demonstrating all exercises. Because everyone has their own learning style, I encourage students to move at their own pace. For the first few weeks, students can work in a smaller space. Later in the class, students will need access to a space large enough where they can perform several exercises or a space that can mimic a trial setting (for example, an obedience ring which can be in your yard or a training building).
Students will need to bend down for a period of time. Some modifications can be made (such as sitting in a chair instead of standing and bending). Students will also need to get on the floor with their dog (or, if possible, put their dog on a grooming table) for several weeks. I will work with you to modify the exercises to your abilities. A few of the games will require quick physical movement from the trainer for short periods and distances.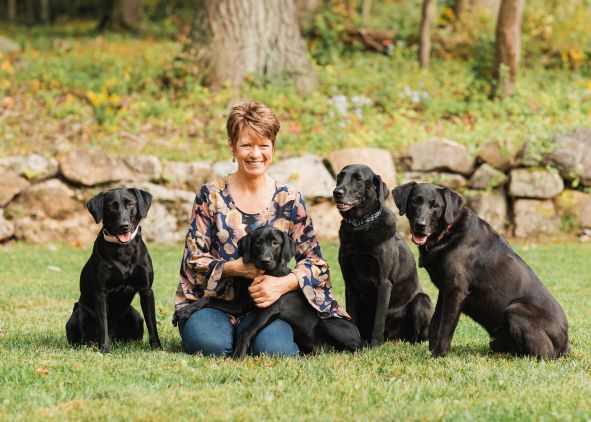 Instructor:
Petra Ford
Petra (she/her) graduated from Rutgers School of Health Related Professions 17 years ago with a degree in physical therapy and has experience working with an extremely varied caseload including pediatric through geriatric clients with a vast range of diagnoses. Her areas of expertise included in-patient rehabilitation, orthopedics and neurology. (Click here for full bio and to view Petra's upcoming courses)