Course Details
Open IS fun!! In this class, I deconstruct all the exercises into manageable pieces. Each piece is taught and maintained like a trick. This makes the exercises accessible for us and the dogs. Your dogs will understand the exercises and perform them with joy and energy. As we put the pieces together, we will maintain that light attitude. We will use backward chaining and forward chaining to pull the exercises together. All while maintaining the quality of the pieces that make up the chain. This approach makes it easy to problem solve and "fix" pieces within an exercise.
We will look at games that teach dogs how to handle pressure in a positive way. We will also look at games that maintain drive, especially for behaviors that are in the middle of the chain.
This class can benefit people that have a foundation in the open exercises and are looking to put the pieces together. It can also help teams that are trained through open but are having problems or want to add excitement to the exercises. Heeling will not be covered in this class.
Prerequisites: Gold Spot Dogs should have foundation skills for all the Open exercises.
Teaching Approach
This class will have written and video lectures each week. Each lecture will be broken down into small pieces. There will be video examples demonstrating all exercises. Because everyone has their own learning style, I encourage students to move at their own pace. I understand that each dog and handler are unique and do my best to accommodate their needs. Students will need to move around with their dogs as required
for open exercises. I will work with you to modify the exercises to your abilities. A few of the games will require quick physical movement from the trainer for short periods and distances. Students will need access to a space large enough so they can play games that involve the dog running and jumping over the broad and high jumps, doing a full length recall etc.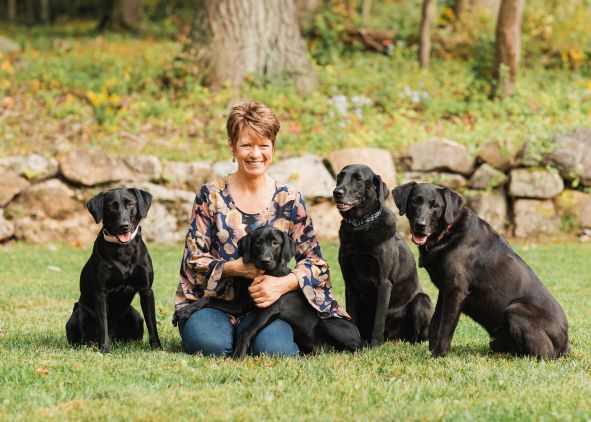 Instructor:
Petra Ford
Petra (she/her) graduated from Rutgers School of Health Related Professions 17 years ago with a degree in physical therapy and has experience working with an extremely varied caseload including pediatric through geriatric clients with a vast range of diagnoses. Her areas of expertise included in-patient rehabilitation, orthopedics and neurology. (Click here for full bio and to view Petra's upcoming courses)