Course Details
You've found yourself at the upper levels and now it gets complicated! Search areas get bigger and more challenigng. Times get tighter. Maybe you have more hides but maybe the area is blank? If that wasn't enough, the hides get tougher too! Making the leap into the upper levels is all about REALLY learning to search. If you are prepping for the upper levels or if you just want to get really good at them, this class is for you!
This class will approach the upper levels by focusing on:
Understanding what your dog is telling you about the qualities of the hide
Interpreting your search area based on layout and air flow
Building those upper level skills
Working unknown number of hides
Getting used to time pressure
This class builds on and enhances what I covered in the popular back to back webinar series "Clearing Areas".
This class is ideal for teams already trialing at NW3 (prepping for Elite), trialing at Elite or Summit, already trialing at Master (prepping for Detective, or trialing at Detective.)
If teams have the opportunity to have someone set blind hides in this class, it will be helpful, however it is not necessary.
This class will have a Teacher's Assistant (TA) available in the Facebook study group to help the bronze and silver students! Directions for joining that Facebook group will be in the classroom after you register.
Teaching Approach
Each week you will receive several lectures released at the begining of the week. There will be theory based lectures as well as lectures and assignments on the current topic. Some homework can be done at home, however the learner will be enouraged to work primarily outside of the home. This class offers extensive written lectures, no verbal lectures, and videos of varying lengths. It is rare that relevant speaking takes place within a video. Lecture videos may run from 1 to 4 minutes long. The lectures are designed to help a student understand the purpose of the topic and how its application might vary by dog. Care is taken so that learners who learn by both watching and reading will be successful. Learners will need to be able to apply concepts to their unique search areas.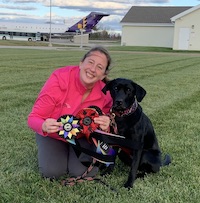 Instructor:
Stacy Barnett
Stacy Barnett is a top nosework competitor and trainer, being the first handler to title multiple dogs with multiple Summit Level titles in the National Association of Canine Scent Work (NACSW), (Judd SMTx3, Brava SMTx2). Stacy has been a faculty member at Fenzi Dog Sports Academy since 2015 (Click here for full bio and to view Stacy's upcoming courses)