Course Details
Are you and your dog struggling with heeling? Do you and your dog have nice heeling when you train, but the performance falls apart when you leave the comfort of home? Have you been stuck with the same problem for a while, and you have no idea how to move forward?
Look no further; Nancy can help you find the path to confident heeling with your dog. First, we will look at individual goals for both you and your dog. And then, evaluate where you are in this process. Your performance goals don't have to look the same as anyone else's. The emphasis will be on finding the proper communication between the two of you and developing a plan that builds a confident heeling performance between you and your dog.
This class is not designed to teach your dog how to heel. Likewise, it's not intended to help new dogs learn heeling skills. Instead, it's meant for trainers struggling with progress in their heeling training with their dog. Numerous heeling classes work on teaching heeling from the ground up. But there are no classes for people that get stuck and feel paralyzed in their decision-making. There are a lot of teams that quit because they are stuck.
Nancy will help you shift your emotional state from anxiety, frustration, shame, or any other problematic feelings you might have in a positive direction. Confidence comes from clarity, a plan, support, and understanding. This class can help both you and your dog make that shift.
If you consider this class as a Bronze student and are concerned about the value when you are not a Gold student, the systematic approach laid out in this course should help you without Nancy's input. In addition, the course is organized so that whenever an issue comes up during heeling training, you will have a plan to address it.
Nancy has developed flow charts and a framework for you to follow to get your heeling something that both you and your dog can enjoy.
Teaching Approach
The first three weeks of this class will set up a communication framework critical in developing a plan for you and your dog. Next, you will learn to add reinforcement procedures specific to your dog and assess the needed skills to get unstuck.
Week 3 releases almost all of the lectures for the remainder of the course. Releasing all the lectures at this time can be overwhelming for some students. But, there are many different paths to take to get you and your dog on track. This strategy of giving you access to most lectures and homework allows for flexibility during the rest of the session.
During the last four weeks of this class, you will take the previously learned skills and apply them to a training plan specifically for you and your dog. The training plan will be a step-by-step approach to building the heeling skills needed to get you and your dog unstuck. Each step will have written instructions, and most will have a corresponding video. The lectures will be released in one batch at the beginning of each week. You will get written feedback. There are a few additional lectures planned for weeks 4-6. But most of the homework will be evaluating the dog's performance and developing a plan from the previously released lectures to continue the process.
This class is heavy on information, and there is a lot to read in the first two weeks. However, a lot of background and introductory information sets the dog up for future success during the remainder of the course.
Most heeling issues fall into a few common categories. Therefore, it would best serve the Bronze or Silver students to monitor Gold students similar to you and your dog's situation during the last few weeks where content and assignments will be based on the team's progress and goals.
This class will have a Teacher's Assistant (TA) available in the Facebook study group to help the bronze and silver students! Directions for joining that Facebook group will be in the classroom after you register.
Podcast
Here's an FDSA podcast where I talk about heeling and a lot about this class:
https://fenzidogsports.libsyn.com/e239-nancy-gagliardi-little-unstick-your-heeling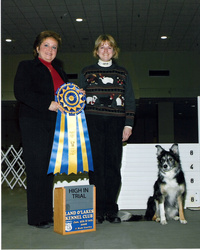 Instructor:
Nancy Gagliardi Little
Nancy Gagliardi Little (she/her) has been training dogs since the early 1980s, when she put an OTCH on her Novice A dog, a Labrador retriever. Since then she has put many advanced obedience titles on her dogs, including 4 AKC OTCH titles, 6 UD titles, 3 UDX titles, and multiple...(Click here for full bio and to view Nancy's upcoming courses)