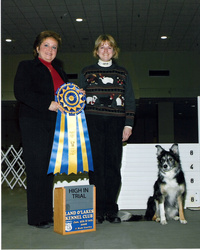 Nancy Gagliardi Little (she/her) has been training dogs since the early 1980s, when she put an OTCH on her Novice A dog, a Labrador retriever. Since then she has put many advanced obedience titles on her dogs, including 4 AKC OTCH titles, 6 UD titles, 3 UDX titles, and multiple championships in herding and agility. Her dogs have been nationally ranked in the top 3 placements in obedience and agility and have earned multiple placements in national agility and obedience competitions.
Nancy is a retired obedience judge, having judged all obedience classes from 1986-2008. She enjoyed judging around the country and had the honor of judging 3 National obedience tournaments in Florida, Kentucky, and North Carolina. She retired from judging to spend more time training her own dogs and competing in obedience, herding, and agility.
Nancy draws from her experience training and competing in multiple sports, which has given her insight into innovative and creative ways of training and handling dogs. She finds that most trainers have no issues training the "big picture," but they tend to lose sight of some of the little details that are the building blocks to the communication and the relationship between them and their dogs. She loves working with very different challenges and trying to help people find a way to improve their communication with their partners.
She started out training her dogs more traditionally in obedience. But she has dramatically changed all training into reward based/positive methods. As a result, she understands the challenges faced by "crossover" trainers and dogs, and can help handlers find their way to newer and more positive training techniques.
Nancy's website is https://nancygagliardilittle.com/ and her blog is https://nancygagliardilittle.com/blog/
Pronouns: Nancy goes by she/her.
This course is different than most agility foundation classes. Rather than introducing obstacle and flatwork skills needed to run an agility course, this class lays out the cr...
December 1, 2023
Many dogs start out their agility career with a good start line. But, over time that start line behavior deteriorates. Why do good start lines break down for some dogs and not...
February 1, 2024
Many dogs start their agility career with good stopped contact performance. But over time, the behavior or the criteria changes and morphs into something undesirable. What cau...
April 1, 2024
This course is designed for experienced handlers as well as new obedience handlers that know nothing about the finer points of handling during heeling in obedience. Dogs make...
April 1, 2024
This course is different than most agility foundation classes. Rather than introducing obstacle and flatwork skills needed to run an agility course, this class lays out the cr...
June 1, 2024
Have a question about an upcoming course taught by Nancy? Not sure if your dog is suitable for a specific class? We welcome you to contact instructors by email to make sure the course is suitable for you and your dog.
Nancy was so positive, clear and detailed in all of her video comments and answers to everyone's questions. The lectures were clear, easy to understand with great videos. Nice to see mistakes made in training, left in the videos ..... a great way to help with the learning. Crate games will be one more addition to my tool box. Thank you Nancy for all your help! Judy B.
---
Nancy Gagliardi Little is obviously passionate about this topic and it comes through in her teaching. Very thorough critiques which were on point (no "sugar coating") yet highly supportive and encouraging. - Jan V.
---
Loved Nancy's attention to detail and strong encouragement when we were frustrated with different tasks; She was willing to go beyond the course lectures and provide lots of other helpful material specific to each dog and handler.
---
Nancy is a genius and this is by far the best class I have ever had, in person or online. She is an amazing instructor with an incredible attention to detail.
---
Nancy is absolutely the best! We have taken her impulse control for the competition dog and now this class for impulse control in agility dogs. It has been invaluable, and many of us are looking forward to continuing in a second session with Nancy. I only wish that I had started my dog with her methods, as I will with my next puppy. Nancy shows you how to let the dog make the right choices to control his impulses - much more fun for dog and handler - and definitely less frustrating for both.
---
I am so impressed by Nancy's professionalism. And willingness to listen when a concern was voiced and make modifications so that I could Lear and we could make progress.
---
I can't say enough about the level of expertise and ingenuity that this class revealed in our instructor, Nancy Little. She worked with a WIDE variety of training problems and I was able to glean information from everything she said!
---
Nancy was thorough and kind, and provided concise and targeted feedback that fixed some major heeling issues within a few video submissions. This class was exactly what I needed to clean up my handling.
---
Nancy has a great eye for detail while keeping the big picture in mind and it is obvious that she brings a wealth of experience to her teaching. She helped me figure out specific steps to improve my training sessions and the results were obvious. She helped me prioritize what I needed to focus on as I prepare my dog for Open emphasizing building a strong working relationship and joyful attitude. I would gladly take this class over again for the opportunity to work with Nancy.