Instructor: Nancy Gagliardi Little
Course Details
This course is different than most agility foundation classes. Rather than introducing obstacle and flatwork skills needed to run an agility course, this class lays out the critical skills (the glue) that are needed for productive learning in agility classes and seminars. The glue will give your future agility star resources and strengths to focus in the unique environment that surrounds the sport. Without this glue, dogs can become frustrated, anxious, fearful, over aroused or any number of other undesirable behaviors that will compromise learning.
Some of the many things your dog will learn in this class:
Stationing
Wait your turn
Release cue
Moving from one place to another (transporting)
Calm crate behavior
Down stay
Join us as we apply the glue to build confident learning and coping skills for your future agility star.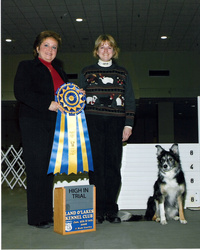 Instructor:
Nancy Gagliardi Little
Nancy Gagliardi Little has been training dogs since the early 1980s, when she put an OTCH on her Novice A dog, a Labrador retriever. Since then she has put many advanced obedience titles on her dogs, including 4 AKC OTCH titles, 6 UD titles, 3 UDX titles, and multiple