Course Details
This class will cover all of the pieces needed to train a reliable obedience retrieve. We will begin by teaching each piece of the behavior chain including the hold and front position. Then we will work to put the pieces together to produce a reliable retrieve. The instructor feedback will be catered to help your dog earn top points on their retrieve exercise regardless of their obedience venue.
There is a TA available for this class.
Teaching Approach
This class is taught using written lectures and short video demonstrations. Two - three lectures are released at the beginning of each week.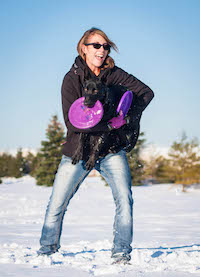 Instructor:
Sara Brueske
Sara Brueske (she/her) has been training dogs for over 15 years, and has experienced a large variety of breeds and sports during that time. Having graduated as a Karen Pryor Academy Certified Training Partner ... (click here for full bio including Sara's upcoming courses)