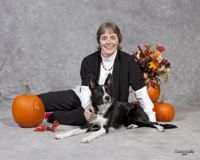 Judy Keller (she/her) has owned and trained Shelties for more than 20 years. She has been most successful with Morgan, her once in a lifetime dog. Judy and Morgan represented the United States three times in world agility competition, and were on the gold medal winning mini dog team in 1998. Judy continues to enjoy training and showing in agility, even though multiple sclerosis has added significant challenges to pursuing her favorite activity. She has also successfully competed in obedience and rally with several of her Shelties.
Along with Deb Jones, Judy developed the FOCUS training system (Fun, Obedience & Consistency leads to Unbelievable Success!). This system provides an effective and positive framework for teaching dogs to develop both motivation and control. Together, Deb and Judy have taught FOCUS seminars, workshops, and classes. They have also written two books (In Focus and The Focused Puppy) and developed 4 DVDs (Foundation Focus, Need for Speed, Crying for Control, and Focused Obstacle Skills) all produced by Clean Run Productions.
Their website is www.k9infocus.com
Pronouns: Judy goes by she/her.
What is Zen Logic? The title Zen Logic has two meanings. First, Zen Logic is a training approach based on the concept that giving up what you want can lead to an e...
February 1, 2024
Can you draw blood from a whale without force? Yes, you can. What about put eye drops into a sea lion's eyes with no fuss? Again, yes you can. But you...
April 1, 2024
Have a question about an upcoming course taught by Judy? Not sure if your dog is suitable for a specific class? We welcome you to contact instructors by email to make sure the course is suitable for you and your dog.
Judy's email is jksmudgie@aol.com

I was impressed with how involved and in depth the instructors were with each of the gold level students. Very labor intensive but I learned a great deal because the instructors went so in depth. Diane H.
---
The instructors were great and gave honest and very helpful feedback. Jody and Ursa
---
FOCUS was a very important class for us. We worked on 12 exercises over 6 weeks. The first exercise seemed so basic that I thought "piece of cake." Click and treat rapidly 10 times while the dog is oriented to you. It just wasn't that simple. Several weeks later many of us were still struggling with the unfamiliar (to me) concept that we were conditioning an attitude not a behavior, such as "watch me." Deb and Judy patiently explained the same concepts over and over until we began to get them. At Judy's suggestion I worked Exercise 1 many times in our entry way, where our dog is hyper-sensitive to the environment outside. As a result, we have gained calm and FOCUS out the front door for the first time – no whining, no drama! This is the foundation that we were missing. I hope to take the class a second time and will definitely continue to work the exercises. The lectures were well-constructed, and the individual feedback thoughtful and thought-provoking. Although the response rate of the students was especially enthusiastic, I appreciated that the class itself proceeded methodically and slowly with plenty of time to digest the material.
---
My first Fenzi course was Performance Fundamentals with Deb and Judy. What a great course! I learned a lot and really enjoyed the exercises. Judy and Deb provided great, timely feedback. This was a super course for anyone interested in performance events in the future. Every lesson was well thought out and there were thorough videos and explanations for each exercise. Griffin and I had so much fun with the class. Highly recommended! Kelli Whitfield
---
Deb and Judy are fantastic instructors. I appreciate the flexibility, and plan to enroll in another round right away to keep going. This course is great fun for both me and my dog. I always felt welcome to ask questions, and fully appreciate the constructive feedback.