Course Details
This course is designed for experienced handlers as well as new obedience handlers that know nothing about the finer points of handling during heeling in obedience.
Dogs make mistakes in heeling when they are not properly cued with smooth, consistent, and clear movements by the handler. This class will help you identify the areas of potential confusion in your handling and also help you develop better handling skills. Once you clean up your handling, your dog's heeling will improve.
Many people struggle with handling during heeling. Do you find yourself on the wrong foot at the wrong time? Do you focus so much on your feet that you are late in executing turns? Do you have trouble getting your feet to behave properly during heeling. If you answered yes to any of these questions, then this class is for you. I have a unique way of incorporating handling which shifts your focus away from your feet.
This class is also for you, if you are a Novice handler and you have no idea what it means to handle turns, starts, and stops in heeling. In fact, as a new handlers, you might even have an advantage because you have not developed bad habits yet.
This class is different from other classes because we work on the human part of the equation. The goal is to clean up handling cues without the dog. If your handling is perfect, you have been successfully challenged, and there is time, you can add your dog.
Nancy is a creative, detailed oriented instructor. She is able to apply her knowledge from agility to help obedience handlers navigate through the heeling pattern (same concepts, just a different application). Nancy has a unique way of helping the handler - take their mind off of their feet and help clarify cues during heeling.
If this sounds interesting to you, come and join us!!
Listen to a podcast about this class:
https://www.fenzidogsportsacademy.com/blog/e142-nancy-gagliardi-little-handler-role-heelwork
Here's a blog that I wrote a few years ago about the class:
https://nancygagliardilittle.com/blog/do-you-really-need-footwork-in-obedience/
Teaching Approach
This class takes a step by step approach to building the various handling skills. Each step will have written instructions and at least one video. Lectures are released in one batch at the beginning of the week. Feedback will all be written.
This class will have a Teacher's Assistant (TA) available in the Facebook study group to help the bronze and silver students! Directions for joining that Facebook group will be in the classroom after you register.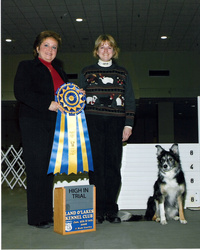 Instructor:
Nancy Gagliardi Little
Nancy Gagliardi Little (she/her) has been training dogs since the early 1980s, when she put an OTCH on her Novice A dog, a Labrador retriever. Since then she has put many advanced obedience titles on her dogs, including 4 AKC OTCH titles, 6 UD titles, 3 UDX titles, and multiple...(Click here for full bio and to view Nancy's upcoming courses)