Course Details
Is Your Dog Scared? How to Help Fearful Dogs AND
Is Your Dog Sensitive to Noises? How to Treat Noise Phobia in Dogs AND
Living With & Training a Reactive Dog AND
Building Puppy Confidence: Give Your Puppy the Gift of Optimism AND
Enrichment for Dogs: Ditch the Bowl, Better Their Life! AND
How to Quiet a Barking Dog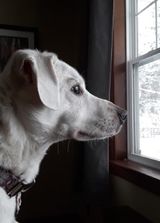 ---
Jennifer Summerfield - Is Your Dog Scared? How to Help Fearful Dogs
Does your dog bark and growl at other dogs on walks? Duck away from strangers when they try to say hello? Hide behind you and tremble with fear in new places? Or pace inconsolably, panting and drooling, whenever there's a thunderstorm outside? If you've ever lived with a fearful dog, you know that understanding and managing these types of problems can be a real challenge. Fortunately, there's a lot we can do to help dogs like this cope better with their fears, and make life easier for them AND the humans they live with.
In this presentation, we'll be talking about the following topics:
How can you tell if your dog has a problem? Is fear always abnormal, or is it okay to be afraid of things sometimes? What role does fear play in survival and evolution for dogs and their wild ancestors?
Why do some dogs develop fear issues, and others don't?
Specific ways we can help fearful dogs, including: Managing their environment – how to help them feel safe, and avoid making things worse during "regular life" when you're not actively training.
Behavior modification – different types of training exercises that you can use to address fear issues directly, and teach your dog to be more confident in the face of previously scary things.
The role of exercise and mental enrichment in addressing anxiety, and examples of how you might be able to incorporate these into your dog's daily routine.
Medication options, and a brief guide to how they work.
We'll also talk a bit about what you can do BEFORE getting a dog, or after bringing home a new puppy, to help prevent fear issues from arising in the first place. And finally, we'll discuss where you can find help and additional resources if your dog is struggling and you're not sure where to turn.
---
Amy Cook - Is Your Dog Sensitive to Noises? How to Treat Noise Phobia in Dogs
Do booms and crashes send your dog into a barking fit? Does your dog dive for cover when she hears a microwave beep or the garbage truck pass by? Do you have trouble with summer storms and fireworks holidays? Your dog may be noise sensitive!
Noise sensitivity is a common problem, and many dogs develop fears from perfectly ordinary elements of daily life. It can range from social matters like the sounds of dogs and people outside the home, to household sounds like appliances, TV and game sounds, and people walking across the floor upstairs. It may even be fear of thunder and fireworks, which may come up unexpectedly! No matter what your dog is frightened of, there is a lot we can do to help them feel better.
Many people don't know what to do when their dog is fearful, and often are worried their actions will make things worse. Or, they may have heard that you should "give cookies after the noise" and they tried that and it "didn't work." In this presentation I will teach you how truly structure that intervention so that it is able to help your dog learn that noises are not scary at all, but are great fun, and give you the stepwise practice in each step, one at a time, so your dog has the structured lessons that result in effective learning. We will teach your dog the "noise framework!"
We'll also discuss how to prevent this issue in young dogs and in dogs that might be fine right now but that you worry might develop the issue as they age. Noise sensitivity can happen to any dog, and being proactive now, when they don't already worry about noises, gives you that buffer should anything change!
Additionally, we will address:
Why your dog might be sensitive
What it can look like in the early stages
The mechanics of training, and how to make noise work fun
What to do with dogs that bark at noises outside rather than inside the home
How to handle the more extreme events supportively
When to talk to your vet to discuss behavioral medications
Identifying these elements early in the process will really help you nip this problem in the bud, and if your dog is already struggling with this, there is no time like the present to lay the foundation that gives them a whole new understanding of what noises mean.
Come give your dog the gift of being resilient to sudden noises, and teach them that they're just gateways to having a great time with you!
---
Amy Cook - Living with & Training a Reactive Dog
Is your dog barking and lunging when you're out on walks? Are you having trouble taking her anywhere, unsure of what will trigger her, not sure what to do when that happens? Does your dog have trouble welcoming visitors into your home, and yell at neighbors from your windows and through the fence in your yard? Take heart! You're not alone!
Many dogs overreact at the sight of other dogs and people in their environments, and that leaves many of us without a plan of what to do. We're stressed out, embarrassed, and even angry at our dogs, and often at our wits' end with trying to change it! But rest assured, your dog is having a problem, not giving you one! They need your help.
In this presentation, I will help you understand what is going on with your dog and what you can do about it. We'll address leash walking strategies, in-home reactivity towards guests and passers-by, and how to quiet that yard barking and fence charging. Living with a "reactive" dog often means adjusting your environment to support their new learning, and taking a look at what your dog is trying to say with all that bluster!
We will go over:
What reactivity is and what it isn't, and what's going on!
Picking the right environment in which to walk your dog, and why avoiding blowups isn't avoiding the issue
How to choose equipment that helps you rather than worsens the problem
How to make your in-home environment supportive of learning new behaviors
What "predict and prevent" means, and how it helps you solve your problems
Why you manage first before you begin training, and how that does half the work for you
Recall parties, coloring books and magnet walking!
Living with a reactive dog isn't always easy, but when we predict and prevent, change our environments to support new behaviors, and then take our initial steps toward changing those reactions, we can see real progress quickly. Come learn how to live with your dog, and to train her to be the well-adjusted dog you envisioned!
---
Julie Daniels - Building Puppy Confidence: Give Your Puppy the Gift of Optimism
Raising a puppy to do well in a human-centered world is a big challenge! And every puppy is a mix of easy and difficult traits to live with. What's the best way to focus your puppy time to bring out the best in your life together?
We all want a puppy who is relaxed and comfortable about life with us. We want our puppy to be somewhat easy to live with, fun to train, and adaptable to new experiences as we enjoy our adventures together. That is the focus of this presentation.
In this presentation we will focus on four main categories that will open those doors for us:
1. Action and Movement - We'll encourage exploration. We'll have fun teaching our puppies to come when called! We'll set up safe equipment and let our puppies climb and balance. We'll foster resilience by encouraging our puppies to bounce back when they fall.
2. Value for Novelty - We'll encourage curiosity and optimism. Familiar items out of place! Surprise is fun. New experiences begin at home!
3. Play - We'll nurture social joy and cooperative interactions with humans and dogs. We'll look at appropriate dog-dog play in young puppies and teenagers.
4. Training - We'll teach our puppy useful life skills through fun and games.
We'll use clickers and other markers to catch our puppies doing good things! Positive reinforcement training is empowering! It's wonderful to bond with a puppy and build the relationship we want to share with them. This webinar will give you many good ideas! It's a solid set of guidelines. It includes many examples and demonstrations to show you how to nurture your puppy's confidence. A confident puppy has a calm and comfortable way of interacting with the world. And it all begins with simple games and exercises you can enjoy with your puppy at home.
---
Sarah Stremming - Enrichment for Dogs: Ditch the Bowl, Better Their Life!
Our dogs are thinking beings with agendas and opinions. Many behavior problems arise when we ignore this fact and attempt to treat them like fuzzy couch ornaments. Leveraging their simple caloric intakes needs is a great place to start in offering them the brain candy they so desperately need. Daily enrichment activities, like food puzzles and scent games entertain wild puppies and keep older minds active. Dog is destructive? Provide ample shredding opportunities that are appropriate, inexpensive, and enticing to save your shoes. Dog barks incessantly? Scent-based enrichment turns off the voice because scenting and vocalizing are simply incompatible. Enriching our dogs' lives helps them to engage in fewer undesirable behaviors, and it helps them live happier more fulfilled lives. It doesn't take a lot of money or a lot of time to provide your dog with the mental stimulation he desires on a daily basis. Food, scent, and novelty based enrichment plans are all here for the taking!
---
Amy Cook - How to Quiet a Barking Dog
Your dog barks! Your dog barks… a lot! And maybe it's beginning to drive you to distraction! You're not the only one, so don't despair. Barking may be a normal dog behavior, but it can certainly be a nuisance to live with. Fortunately, there is a lot you can do to reduce the barking and increase the quiet!
In this presentation we'll go over the many reasons your dog may be barking, from fear, understimulation, excitement and even because you (gasp!) accidentally trained her to! Knowing why your dog is barking — even if we have to make an educated guess about it — can lead us to the most effective intervention. First we look at why dogs bark, from the triggers that set it off to the things you may be doing to inadvertently reinforce the behavior, and then we'll get into concrete steps you can begin to take in order to get a handle on this noisy problem!
The best thing you can do for barking is to be proactive rather than react after the fact! Your superpower is to "predict and prevent," so that you can replace that behavior of barking with a behavior of quiet — and other behaviors that get your dog what she needs, like bells for potty time, or sitting for treats. Get ahead of the problem, teach your dog what you want her to do instead of barking, and reward her heavily for that choice! If your dog is barking from fear or distress, there is also a lot you can do to modify your environment to reduce the power of this emotional situation. Let's set your dog up for success!
We will also go over common aversive techniques and why those aren't your best choices, and how they can even backfire on you. Additionally, we'll discuss the role of breed and individual history in how to set realistic goals for your dog.
All dogs bark, but some bark more than others, and while most people are ok with a little bit of barking, everyone has their limit! If you're at your wits' end with this issue, rest assured there are many things you can do to address excess barking, and help your dog find her peace and quiet!
---
Watch the Video Trailer with Sample Clips from All Presentations:
---