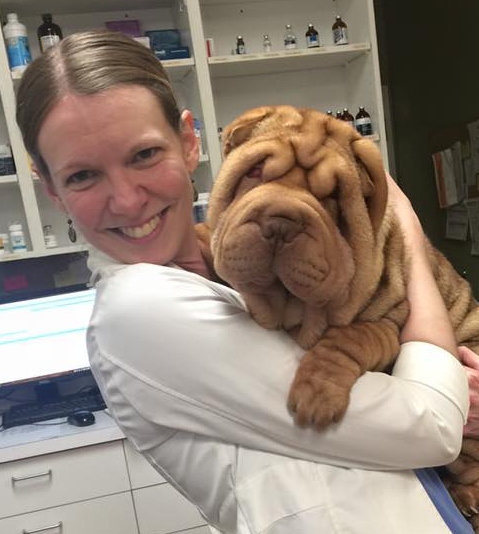 Jennifer Summerfield (she/her) is a veterinarian and Certified Professional Dog Trainer (CPDT-KA), with a focus on treating behavior problems including aggression to humans or other animals, separation anxiety, and compulsive behavior disorders. She also teaches group classes and private lessons in basic obedience for pet dogs, and coaches students getting started in dog sports such as agility and competitive obedience.
Jennifer is proud to be a member of the American Veterinary Society of Animal Behavior (AVSAB) and the Association of Professional Dog Trainers (APDT). She is a passionate advocate for positive, science-based methods of training and behavior modification, and loves helping pet owners learn to communicate more clearly with their dogs.
Outside of work, Jennifer enjoys competing in a variety of sports with her three Shelties, including AKC agility, obedience, rally, and conformation. She has been a past webinar presenter for Jean Donaldson's Academy for Dog Trainers, a guest lecturer on clinical animal behavior for veterinary technician students at her local community college, and also writes a blog on behavior and training issues for dog owners.
Her blog site can be found here: www.drjensdogblog.com
Pronouns: Jen goes by she/her.
Training Videos on Demand
The Dog Park Dog We all know that dogs need exercise to be happy and mentally stable. And let's face it – what's more fun than watching your dog frolic h...
Jennifer Summerfield, DVM
(Guest Instructors)
Is Your Dog Scared? Does your dog bark and growl at other dogs on walks? Duck away from strangers when they try to say hello? Hide behind you and tremble...
Jennifer Summerfield, DVM
(Guest Instructors)
Behavior Meds 101: What Do They Do, and How Can They Help? Does your dog struggle with some type of hard-to-manage behavior issue, such as leash reactivi...
Jennifer Summerfield, DVM
(Guest Instructors)
For many pet dog trainers, refereeing dog-dog play interactions is an important part of the job! Whether you're teaching puppy classes, running a doggy daycare, or helpi...
Jennifer Summerfield, DVM
(Guest Instructors)
Okay, so you're ready to offer your first puppy class – how exciting! Working with puppies (and their people!) is one of the most fun and rewarding parts of being a pet ...
Jennifer Summerfield, DVM
(Guest Instructors)